Support CARITAS at one of these coming events!
Annual THP Alumni Weekend
Thursday, September 28
5:30 p.m. – 8 p.m.
Alumni Ceremony
Appetizers, Tours, Awards Ceremony and Testimonies
Saturday, September 30
10 a.m.- 4 p.m.
Alumni Family Block Party
Save the date to celebrate alumni of The Healing Place and  the generosity of contributors who make this life-changing work possible. All events take place at 700 Dinwiddie Avenue.
43rd Street Arts Festival
September 15, 2018
Forest Hill Ave & 43rd Street
We're excited to celebrate the 27th Annual 43rd Street Art Festival! The community arts event is free family to attend, features 75 fine artisans and local music, and has a wide variety of great local food. CARITAS will be selling t-shirts, bags and raffle tickets to raise funds for the work that we do everyday to care for our community. Learn more, view artists, and share the Facebook event with friends and family. 
Richmond CROP Walk
September 16, 2018
Ginter Park United Methodist Church
The 48th Annual Richmond CROP Hunger Walk will take place on Sunday, September 16, 2018. There is a new route this year, which is still about 5K. It will start and end at Ginter Park United Methodist Church. Registration for Walkers will start at 1:00 PM and the Walk starts at 2:00 PM.
Learn more, start fundraising, and register your team. 
u-fab CHAIRity Auction
October 19, 2018
Join us for the first event of its kind! This design challenge, a celebration of u-fab's 10 year anniversary. It will be structured like "Project Runway," but for furniture design. A group of incredibly talented designers and influencers from the Richmond area will pick a chair from our curated collection. The types of chairs and styles will vary greatly.
Each designer will then work with the u-fab fabrication staff to create a unique chair that will be auctioned off during a public event! All proceeds from the auction will go to CARITAS.
Participating Designers:
Bill Sorrell, Thibaut
Ed Trask
Karen Hardy, Accent Draperys & Fine Interiors
Katie Ukrop, Quirk
Kathy Corbet, Kathy Corbet Interiors
Kelly Brown, Kelly Brown Interiors
Kenneth Byrd, Kenneth Byrd Designs
Kim Childs, Kim Childs Design
Paul Trible, Ledbury
Stevie McFadden & Alicia Hogue Conrad, Flourish Spaces
Susan Jamieson, Bridget Beari Designs

CARITAS Works Commencement Ceremony

Thursday, October 25
700 Dinwiddie Avenue
Every five weeks, CARITAS Graduates a new class of men and women from the CARITAS Works program. Join us as they accept certificates and share their stories of triumph and plans for the future. RSVP to Marilyn Milio mmilio@caritasva.org.
Synapse Networking Every Other Week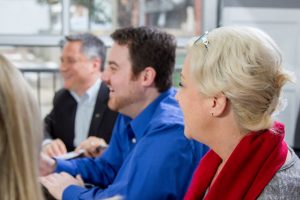 Thursdays, 8:30 a.m.
1532 High Street, Richmond, VA 23220
CARITAS hosts a biweekly networking opportunity. Locations and times change. Please visit Synapse on Facebook for the latest times and opportunities. Look for "HUB019" for CARITAS times.  RSVP via Facebook or email tterry@caritasva.org. Learn  more about Synapse here.