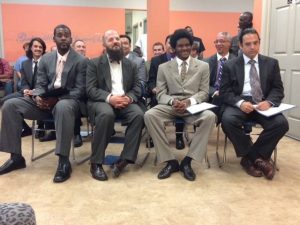 CARITAS Works Commencement Ceremony
Graduations are held
3-4 p.m. at 700 Dinwiddie Avenue
Every six weeks, CARITAS Graduates a new class of men and women from the CARITAS Works program. Join us as they accept certificates and share their stories of triumph and plans for the future. We're usually streaming live on Facebook these days. Tune in here.  Send questions to Marilyn Milio mmilio@caritasva.org.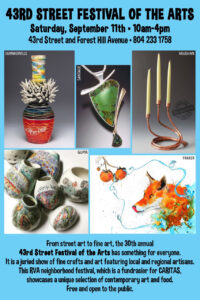 43rd Street Festival of the Arts
September 11, 2021, 43rd Street and Forest Hill Ave., 10 a.m. – 4 p.m.
We'll be celebrating 30 years of our partnership with the 43rd Street Gallery this year! This annual event is full of friends, volunteers, supporters, food, and of course, art! It's free to attend and there is something for everyone during the juried fine arts and crafts festival.
The Healing Place Alumni Coin Ceremony
September 23, 2021 at 5 p.m. 
This event will be virtual for everyone not directly involved in the ceremony. Stay tuned for details on how to support our THP graduates and alumni from home!
19th Annual Celebrity Serve
Saturday, February 26, 2022 
We're taking the show virtual again this year to ensure our dearest friends and supporters stay safe. If you're interested in sponsoring the 2022 event, please contact Emily Millhiser at emillhiser@caritasva.org or 804.887.1578.