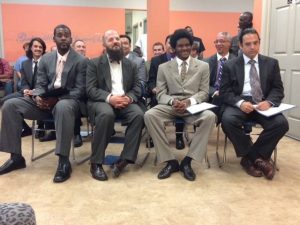 CARITAS Works Commencement Ceremony
Graduations are held
3-4 p.m. at 700 Dinwiddie Avenue
Every six weeks, CARITAS Graduates a new class of men and women from the CARITAS Works program. Join us as they accept certificates and share their stories of triumph and plans for the future. We're usually streaming live on Facebook these days. Tune in here.  Send questions to Marilyn Milio mmilio@caritasva.org.
Celebrity Serve
February 27, 2021, virtual event
Each February, we look forward to our annual Celebrity Serve dinner. For the last 17 years, this has been an in-person event with local celebrities serving and entertaining guests. We're taking Celebrity Serve virtual in 2021 to show you our beautiful new home at the CARITAS Center.