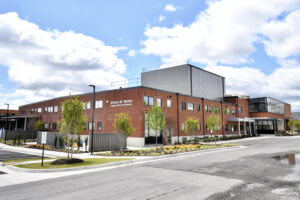 CARITAS Works Commencement Ceremony
Graduations are held at 700 Dinwiddie Avenue or 2220 Stockton Street – Please double-check!
Every six weeks, CARITAS Graduates a new class of men and women from the CARITAS Works program. Join us as they accept certificates and share their stories of triumph and plans for the future. We also regularly stream these events live on Facebook. Tune in here.  Send questions to Marilyn Milio at mmilio@caritasva.org.
April 27: Works Class 88 Commencement, 3 p.m.
June 28: Works Class 89 Commencement, 3 p.m.
August 17: Works Class 90 Commencement, 3 p.m.
Warehouse Sales
Shop furniture, home decor, lighting, and more that we cannot offer our clients. We partner with Curtain Call to host regular warehouse sales where you can find anything from kayaks to vanities to big comfy couches, all at a steal! Proceeds support our mission. Learn more and shop the next sale.
43rd Street Festival of the Arts
September 9, 2023
The 31-year-old festival features more than 60 artists, food vendors, a raffle, and a juried arts show that fill the streets of the Forest Hill community. More than 5,000 annual attendees help raise important funds for CARITAS. Stay tuned for 2023 details.
Holidays at CARITAS
December 2023
Each December, we invite you to bring hope for the holidays to CARITAS. With hundreds of program participants living under our roof,  we want to make it a home filled with joy, just like yours. Stay tuned for ways to volunteer, donate, and celebrate.