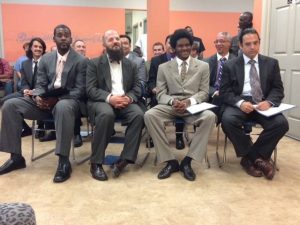 CARITAS Works Commencement Ceremony
Graduations are held
3-4 p.m. at 700 Dinwiddie Avenue
Every six weeks, CARITAS Graduates a new class of men and women from the CARITAS Works program. Join us as they accept certificates and share their stories of triumph and plans for the future. RSVP to Marilyn Milio mmilio@caritasva.org.
Future Commencement Dates:
May 29, 2020
July 2, 2020
September 3, 2020
u-fab CHAIRity
October 23, 2020, 6:30 p.m. u-fab, 7921 W Broad St.
Influential Richmond artists transform old chairs into unique pieces of art in a makeover challenge and auction to benefit CARITAS.
Thank you to everyone who attended our 2019 event and helped to raise more than $45,000!