CARITAS Works Commencement Ceremony

Thursday, August 29, 3-4 p.m.
700 Dinwiddie Avenue
Every six weeks, CARITAS Graduates a new class of men and women from the CARITAS Works program. Join us as they accept certificates and share their stories of triumph and plans for the future. RSVP to Marilyn Milio mmilio@caritasva.org.
Synapse Networking Every Other Week

Thursdays, 8:30 a.m.
1532 High Street, Richmond, VA 23220
CARITAS hosts a biweekly networking opportunity. Locations and times change. Please visit Synapse on Facebook for the latest times and opportunities. Look for "HUB019" for CARITAS times.  RSVP via Facebook or email tterry@caritasva.org. Learn  more about Synapse here.
Recovery Month
September 1-30, 2019
Various locations
September is National Recovery Month. This year, we're celebrating and connecting in a variety of ways at The Healing Place and around the community. Please click here to view a full list of events and ways to get involved, including sponsorship opportunities.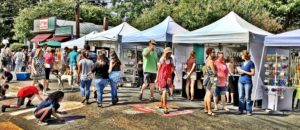 43rd Street Festival of the Arts
September 14, 2019, 10 a.m. – 5 p.m.
1412 W 43rd Street, Richmond, VA 23225
Join us for this annual event featured artists from around the country.  Join the fun with the whole family. Enjoy raffles, live music, crafts, food, and more. Free to the public. Join the event on Facebook.
Stacey's Hope
October 4, 2019, 7:30 p.m.
To honor Stacey Dendy's life,  a group of her friends and family are raising $100,000 for the fitness room at the new CARITAS Center. Your support will help raise money for the fitness room which will be named in Stacey's honor. All those contributing at one of these levels will be invited to a benefit to be held in Richmond. Learn more.