4th Annual Fit and Fabulous Fundraiser
Friday, December 6, 6:30 – 8:00 p.m. Body By T Fitness, 2900 Oak Lake Blvd, Midlothian VA
Bring your workout clothes, friends, and enthusiasm for the silent auction! This event includes a free 30-minute workout, injury assessments, and vendor demonstrations. There's also the chance to win great door prizes! All proceeds benefit The Healing Place and the Chesterfield Food Bank. If you can't make it to the event, you can give online here.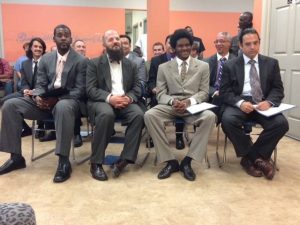 CARITAS Works Commencement Ceremony
Friday, January 10, 2020 3-4 p.m. 700 Dinwiddie Avenue
Every six weeks, CARITAS Graduates a new class of men and women from the CARITAS Works program. Join us as they accept certificates and share their stories of triumph and plans for the future. RSVP to Marilyn Milio mmilio@caritasva.org.
Future Commencement Dates:
February 26, 2020
April 3, 2020
Synapse Networking Every Other Week
Thursdays, 8:30 a.m. The Market at 25th, 1330 N. 25th St.
CARITAS hosts a biweekly networking opportunity. Locations and times change. Please visit Synapse on Facebook for the latest times and opportunities. Look for "HUB019" for CARITAS times. RSVP via Facebook or email tterry@caritasva.org. Learn more about Synapse here.

Celebrity Serve
Thursday, February 27, 2020 6:00-10 pm Tuckahoe Woman's Club
We will Come Together for a fun 70's-themed dinner to benefit CARITAS. Details and tickets coming soon!
u-fab CHAIRity
October 23, 2020, 6:30 p.m. u-fab, 7921 W Broad St.
Influential Richmond artists transform old chairs into unique pieces of art in a makeover challenge and auction to benefit CARITAS.
Thank you to everyone who attended our 2019 event and helped to raise more than $45,000!