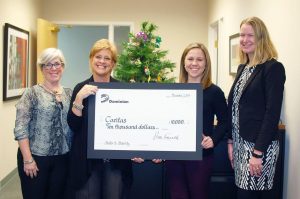 Thank you to the following organizations, foundations and individuals who donated to support CARITAS during the 2014-2015 Fiscal Year! Every dollar you donate changes a life.
Please scroll to the bottom to read a list of donors who specifically supported The Healing Place.
Chairman's Circle ($10,000+)
43rd Street Festival of the Arts
4G Foundation
Altria Companies Employee Community Fund
Anonymous (4)
Bank Of America Charitable Foundation
Karen & Gregg Barr
Daisy & Thomas Byrd
Capital One Services, Inc.
Chesterfield County
City Of Richmond, Dept Of Finance
County of Henrico
Cary & Fred Dabney
Garland and Agnes Taylor Gray Foundation
Genworth Financial
Susan & Britton Glisson
Children's Milk Fund, Bank of America, N.A., Trustee
John P. and Carole E. Gregory Foundation
Constance C. and Linwood A. Lacy Foundation
Lift The Burden Fund
Loupassi Foundation
Martha Henna Harris Endowment Fund
Mary Flook Buttrick Irrevocable Trust
MeadWestvaco Foundation
Partnership For Nonprofit Excellence
Robins Foundation
Helen & James Ryan
Shelton Short Foundation
Suntrust United Way Campaign
Mr. & Mrs. David Trebour
Virginia Department of Housing & Community Development
Virginia Housing Development Authorit
Virginia Non-Profit Housing Coalition
Mary & Rock White
The William H.-John G.-Emma Scott Foundation
Circle of Hope ($5,000-9,999)
Anonymous
Commonwealth Of Virginia Campaign
Electric Power, Inc.
The Franklin Federal Foundation
Jill & James Gaynor
Nancy & Bruce Gottwald
Grace & Holy Trinity Episcopal Church
John R. & Carter A. Bryan Charitable Trust
Anonymous
K-Cettes at the Columbian Center
Dena & Chris Moore
The Overton & Katharine Dennis Fund
Mrs. George Pence Jr.
Lloyd Ann Charitable Fund
Richard Atack Construction ll, LC
Richmond Refrigeration Service, Inc.
River Road Presbyterian Church
Janet & Brad Sauer
Melinda & Robert Sledd
John Snow
Nancy & Paul Springman
Anonymous
Nancy Taylor
Thompson, Siegel & Walmsley LLC
Catherine & H. B. (Tom) Thomson III
UPS Foundation, Inc.
Leah & Joseph Wehinger
Karen & John West
Circle of Partners ($1,000-$2,499)
Robin & Thomas Evans
Jane & Roy Lewis
Christ Church Episcopal
BB&T Capital Markets
Earl Templeton
Debbie & Marty Klein
Jennifer & Sean McCluskey
Patricia Rollins
Kathleen Angela Shiel
St. Edward The Confessor Catholic Church
Barbara & James Ukrop
Karen Stanley
River Road Church, Baptist
River Road United Methodist Church
Dominion Employee Giving Program
Danah & Dan Massey
Altar'd State #36
Priscilla & Edwin Bischoff
Esther & Rudolph Bunzl
First Baptist Church
St. Mary's Episcopal Church
SunTrust Mid-Atlantic Foundation
John McDougal
Emilie & Ryan Raddin
St. James's Episcopal Church
St. Stephen's Episcopal Church
Emilie & Keith Evans
Margaret & Andrew Little
The M&T Charitable Foundation
Owens & Minor, Inc.
Patient First Corporation
Mr. & Mrs. E. Bryson Powell
Williams Mullen Foundation
Altria Group, Inc. Matching Gifts Program
Bruce Alves
Amica Companies Foundation
Carolyn Atkinson
Jennifer B. & R. Brian Ball
Lisa & Brooks Ballance
Edmund Bartlett
Alexandra Bayler
Wendi and Timothy Black
Sherrie Brach
Catherine & Turner Bredrup
Mitra & Matthew Bryant
Suzanne & Kevin Burger
June & Douglas Burks
Kathleen & Robert Calhoun
Capital One PAC-Match Program
Carriage House Of Richmond
Angela & Anthony Cassano
Cathedral of the Sacred Heart
Mary & Kenneth Cirillo
Lisa Clemmer & Christopher Brooks
Clover Hill Assembly Of God
Peter Coleman
Debra & Charlie Colpo
Laurie Jones & Earl Cox
Crestwood Presbyterian Church
Ellen & Steve Cross
Anonymous
Margaret & Keith Degnan
Elizabeth & Gregory Dickie
Dr. William T. and Dorothy D. Moore Family Charitable Endowment
Jim & Sharon Ellen Charitable Fund
Essentra Porous Technologies Corporation
Kim Faison
Alexandra Fannon
Mr. & Mrs. Thomas Farrell
Audrey & David Franks
Sarah & Michael Gardner
Stephanie & Patrick Gemmell
Genesis Consulting
Mitzi & Frederic Golod
Grace Chinese Baptist Church Of Richmond
Carolyn & Randolph Graham
Deb & Bill Gray
Mary & Earnest Greene
Matthew Grey
Patricia & John Hague
Haley Buick GMC
Hamilton Family Foundation
Nancy & Brandon Harrell
Matthew Harrison
Ronald Haynes
Nolan Heiter
Mr. & Mrs. Lee Hilbert
Mr. & Mrs. Thomas J. Hill
Gloria Hintz
Reggie & Brooks Hock
Robert Holt
Carol House
Kenneth Howell
Anonymous
James River Air Conditioning Company
Dr. & Mrs. Samuel Janney II
Melissa Jones
Cherry & Gary Jones
Carol Jones-Gilbert
Mary & Howard Kahn
Ann & Charles Gray Key
Karen & Patrick Kinlaw
Anonymous
Nathalie L. Klaus Charitable Lead UniTrust
Wendy & Lee Kump
Mariano Leo
Claudia & Ted Lushch
Markel Corporation
Janine & Herbert Martin
Blair & Randee Massey
Anonymous
David Mehigan
Genevieve Mellott
Mary Middleton
Marianne & James Mohn
The Monument Sports Group
Theresa & William Mooney
MPT Operating Partnership, L.P.
Mt. Olive Baptist Church
Mt. Pisgah United Methodist Church
Northrop Grumman Corporation
Jeanne O'Grady
Robert Olson
Anonymous
The Owen Family Foundation
Lois & Brad Partrea
Sarah Peters
Sallie & John Philips
Melody & Kenneth Podraza
Wendy & James Popp
Reed Potecha
Marc Purintun
Peter John Ramsey
Rhoda Raymond
Raymond James/Morgan Keegan
RECO Industries, Inc.
Anonymous
Paula Reid
Wanda Rich-Morrison
Anonymous
Dr. & Mrs. David Rodini
James and Leslie Rose Charitable Fund
The Rotary Club of Brandermill
Michael Roy
Susan & James Ruppel
Salisbury Presbyterian Church
Linda & Serge Schreiner
Second Presbyterian Church
Toni & Michael Shelton
Mr. & Mrs. E. Lee Showalter
Rebecca & Michael Smoot
Saint Bridget's Church
St. Matthias' Episcopal Church
The Supply Room Companies/Mega Office Furniture
Martha & David Sylvia
Becky & Stephen Theuer
Third Church
Lynn & James Thomas
Mr. & Mrs. Gary Thompson
Stevie & Ty Toepke
Judith & Nathan Turbeville
Cynthia Turner
Jayne & Bobby Ukrop
United Way of the National Capital Area
Edward Villanueva
Jeffrey Walker
Katie & Gene Webb
Marie & Ben Allred
Wells Fargo Community Support
West End Assembly of God
Beth & Mark White
Martha Williams
Tamra & Jeffrey Wilt
Cedar Street Charitable Foundation
Circle of Patrons ($250-$999)
Elizabeth Acampora
Barbara & John Apostle
Kelly & Tiffany Armstrong
Edward Baine
Catherine Baker
Hylah Ballowe
Gussie & David Bannard
Patsy & John Barr
Ann & Michael Beall
Margaret Bemiss
Gretchen Bennett
Beulah United Methodist Church
Steven Biegler
Agnes & Rick Blocker
Anonymous
Patricia and Samuel Bowen
Michael Boyle
Katherine & Kenneth Brammer
Robin Brewster & Victor Smith
David Briest
Ellen & Harold Brooks
Margaret Brown
Stephanie & Gary Burnett
Sheila Anne Carrico
Catholic Diocese of Richmond
Chamberlayne Heights United Methodist Church
Anonymous
Beth & Nick Ciucci
Sheila Clarke
Connie & Jay Coffman
Mrs. Charles G. Conrad
Roland Costa
Counseling & Advocacy Associates LLC
Rotha & Robert Covington
Diane Cowling
Susan & John Davenport
Kimberly Yvette Davis-Wiley
Vincent DeLucia
Dennis & Cindy Pryor Charitable Trust
Jennifer Dickinson
James Dimitri
Dominion Virginia Power
Cynthia & Thomas Dorsey
Douglas Malone DDS, PC
Michael Hanley DDS, LTD
Susan Ellett & William Shumate
Beth & Jim Elliott
Amber & Daryl Ellis
Darlene & George Emerson
Diane & Kevin Finto
Janet & Andrew Foldenauer
Sandra & Thomas Franck
Jeff Funderburk
Genworth Foundation Matching Gifts Program
Marie & Edward Gerardo
Carolyn & Sean Gibbons
Glen Allen Ruritan Club
Randall Godwin
Joan & Robert Goebel
Holly & Frank Gorse
Grace Baptist Church
Mr. & Mrs. David Gray
Kerry Grey
Lorinda & Alan Griffin
Virginia & Kenneth Grigg
Linda Sings & Richard Guilmart
Stephen Harfield, Jr.
Ellen & Michael Hartenberg
Stephen Hayes
Thomas Hayes
Sean Healy
Christine & Joshua Heslinga
Melissa & Jeff Hickok
Rick Higbie
Herbert Hill, Jr.
Diane & David Holdford
James Holmes
Honeywell Hometown Solutions Campaign
Kate & Daniel Honsberger
Cynthia Hopping
Chad Hudson
Brenda & Kevin Humphreys
Hae Joo Hwang
James River Press
John R. Nelson Charitable Fund of The Community Foundation
Kristen Jones
Belinda Jones
Shane Kasper
Jeffrey Kesterson
John Kim, DDS
Amanda & Todd Kuhn, DMD
Mary & Edward Lane
Suly & Tim Layton
Irina Libon
The Linhart Foundation
Cynthia & John Lollar
Anonymous
Robert Lowerre
Mr. & Mrs. Jacob Lutz III
Scott Gore DDS, PC
Thomas MacEwen
James & Carolyn Mallory
Nell & Ned Massee
David Wright & Carrie McAllister
Robert McAtee
Holly & Rob McGinnis
David McGuire
Anonymous
The Merck Foundation
Claudia & Craig Merritt
Glenn Mitchell
Mosby Memorial Baptist Church
Mt. Tabor Catholic Community
Douglas Nabhan
Michelle & Jay Nelson
Oakwood Memorial Baptist Church
Steve Oden
Drs. Davis & Nyczepir LTD
Paul H. Pusey Foundation
Joy Payne
Patricia Perry
Pfizer Consumer Healthcare
Pietragallo Gordon Alfano Bosick & Raspanti, LLP
John Purcell, Jr.
Lynnae & John Rau
Cindy & Jack Reasor
Sara Reese
Stacy & Kenneth Reeves
Anonymous
Val & Joel Reinford
Patricia & Perry Remaklus
Renaissance Charitable Foundation Inc.
Richmond City Football Club
Sandra Robinson
Douglas Robinson
Carol & James Rogerson
Anonymous
The Rosenthal Foundation
Rostro Foundation
John Sansom
Michael Schleinkofer
Michael Schuchert
Sixth Mount Zion Baptist Church
Donna Slaughter
Joan & James Smithson
Snead Family Foundation
Stephanie & Richard Sowers
St. Giles Presbyterian Church
St. Michael's Episcopal Church
The Starke Foundation
Debbie & Ed Sundra
Kelly & Kirk Tattersall
The Steward School
Kendall Thow
Three Chopt Presbyterian Church
Edith & James Triplett
Troutman Sanders LLP
Tuckahoe Presbyterian Church
The Ukrop's Homestyle Foods Foundation
Unitarian Universalist Community Church
United Parcel Service
United Way of the Virginia Peninsula
Laura & Edward Valentine
Karen & Tom Vaughan
Susan & Howard Vick
Virginia Farm Bureau Mutual Insurance Company
Judith & Robert Wade
Chris Ward
Lloyd Watson
Dorothy Wells
Dena Wengert
West Richmond Church of the Brethren
Barbara & Douglas Westmoreland
Kathy & Frederick Whitten
Sandra & Roger Wiley
Marsha & David Williams
Esther Wirt
Russell Wolfe
Mary Mason and Vincent Wood
Susan & Isaac Wornom III
Mr. & Mrs. Wesley Wright, Jr.
Lewis Wyland
Elizabeth Zale
Frank Zwemer
Able & Associates, LLC
Anonymous
Ashland Presbyterian Church
Jane & Hal Baird
Sue & Robert Baldwin
Thomas Barrett
Vicki Beckett
Maggi & Richard Beckstoffer
Anonymous
Scott Blackwell
Mary Anne Blair
Blair & Associates CPA'S, PLC
Deborah Blalock
Sharon & Donald Blom
Stephen Bonadies
Donald Bowers
Robert Brandau
Paul Gregory Brannan
Gail & William Brickhouse
Estelle Brodeur LLC
Georgeann & Stuart Broth
Rosemary Brown
Nancy & Frank Bruni
Robert Burke
Felecia Graham Burrell
Buz & Ned's of Parham & Broad Restaurant, LLC
Anonymous
James Canup
Janet & Philip Card
Margaret & James Carreras
Lewis Casey
Jean Cauble
Crista Cole
Vicki Collins
Commonwealth Oral & Facial Surgery
Congregation Beth Ahabah
Donna Copley
David Craymer
Joseph Dean
Jason DeHaven
Kelly & John Depew
Brook DeWalle
Claudia & Robert Dickerson
John G. Chip Dicks
Cecily DiPiro
John Dottore
David Beam DDS, LTD
Denise Drezek
Darien & John Duke
Mark Dunham
Marty & Jim Easton
Alan Eaton
Sherryl Eck
Donna & Randolph Ellis
Hai-Nah Ellison
Elizabeth Ellwanger
Charles Ewell
Anonymous
Anne Farnum
William Friedery
Joseph Francis Gassette, Jr.
The GE Foundation
Pamela Geib
Karen Genazia
Paul Gidley
Jason Golos
Renee Goode
Anonymous
Lori Gray
Renee & George Greenfield
Diane & Oliver Greenwood
Anonymous
Linda & Jerry Hancock
Harman, Claytor, Corrigan, Wellman
Harris, Hardy & Johnstone, PC
Connie Harvey
Michael Henderson
Dian Henshaw-Suder
Brenda Holmes
Graham Howell
Bronwyn Hughes
Mary & Peter Hulick
Sally & Michael Hunnicutt
Anne & Charles Jewett
Sheryl Johnson
Neal Johnson
Devon Jones
Leila & Walter Jones IV
Kaplan Voekler Cunningham & Frank, PLC
Wanda Kelly
Anne Kenny
Dr. & Mrs. Joseph Kent III
Anonymous
David Knicely
Michael Kowal
Laura & Henry Kuhlman
jeffrey Kushinka
Rachel Crabtree Lamberson
Courtney Legum-Wenk
Sallie & Carl Levander
Bonnie & Clifford Logan
Ardyth Lohuis
June & Dan Lynch
Douglas James MacDougall
Marguerite MacNelly
Judy & Edward Malloy
Paul Gilding & Amy Marschean
Christel & Patrick McCullagh
Diane McDorman & Dennis Ott, Jr.
Loucinda & Philip McLean
Alan Meekins
Donna Meeks
Gail Trevvett Merridew
Jeffrey Michel
Timothy Morris
Laura & Jim Morris
Rosalind Moss
Martha Mullen
Mary Munton
Jan & John Murphy
Barbara & William Myers
Barbara & Paul Newton
Shelley & Robert Nicol
Mr. & Mrs. James O'Connell
Mary Alice O'Donnell
Vivian Oliver
Thomas O'Neil
The Order of the Daughters of the King
Michael Painter
Thomas Palmore
June & Kenneth Pankey
Sally & O.H. Parrish
Scottie Pate
Anonymous
Bonnie & Bill Pelino
Mary Bryan Perkins
Patricia & Christopher Perry
Wayne Phillips
Pilgrim Baptist Church
Priscilla Poe
Melissa Punch
Cynthia & Randy Revercomb
Richard W. Bates DDS, PC
Richmond Oral & Cosmetic Surgeons
Riley & Company
Kathleen Rio
Raymon Roberts, Jr.
Stephen Roethe
Linda & David Rose
Lauren & David Rosenbaum
Rumi Forum, Richmond Chapter
Mark Ryan
Emily Saunders
Troy Savenko
Christina Saylor
Tara Sharrer
Thomas Sheets
Beth & James Shefferly
Cynthia & William Shelton
Lucy & William Shields
Vivian & Benjamin Sillmon
Anne & Tom Simmons
Virginia Spiers
Kevin Spruill
St. Mark's United Methodist Church
St. Paul's Episcopal Church
Skip Stanley
Patricia Stohr-Hunt
Sarah Stubblefield
George Stuckey
Linda Tew
Betty & Philip Tibbs
Rosaline Tignor
Barbara Tisdale
Jerrell Todd
Gail & Kenneth Tuley
Patricia & Steve Turner
United Way Suncoast/Tampa Bay
Unity Christ Church of Bon Air
Mr. & Mrs. E. Massie Valentine Jr.
Mary & Bernie Walker
Megan & Steve Walworth
Lori Ward
Daniel Ward
Natalie Warner
Jane Watkins
David Weeks
Stephanie Gaillard White
Genevieve Wilhelm
Stephen Williard
Mary Dabney Wilson
Valerie Wilson
Winfree Memorial Baptist Church
Mary Ann Wolfgang
YourCause, LLC
Circle of Friends (Under $250)
The 7th Day Praise & Worship Church
Linda Abbatiello
Daniel Hall & Margot Ackermann
Tom Ager
Erica Ahlers
Pamela & Thomas Albrecht
Susan & Tom Allen
Anne Allen
Robin & William Allman
Allstate Giving Campaign
Kasey & Michael Althoff
Kelly Althoff
American Express Foundation
American Systems Corporation
Hoang An Le
William Anderson
David Anderson
Jimmie Anderson
Bette & James Anderson
Patricia & Roland Anderson
William Andrews
Anthony Creech & Crystal Jonkman
Aon Service Corporation/Aon Foundation
Apple, Inc.
Anne Archer
Susan Armentrout
Linda Armstrong
William Van Arnam III
Michael Arrington
Lisa Artis
Elizabeth Ashworth
Allan Astley
AT&T Employee Giving Campaign
Lenora & James Atkinson
Delores & Mark Audet
Ann Auletta & ichard Sterling
Tonya J. Austin
Laura Austin
John Back
Laura & Denton Baker
Charles Ball III
Terri & Terrence Banks
Thomas Bannard
Gloria & Martin Barbie
Elizabeth Baron
William Barton
Courtney Bassett
Minnie Bates
Sue & John Baty
Richard Bauer
Jennifer Baylor
Randolph Beales
Dwight Beard
Gabrielle Beck
Dorothy & Paul Bedard
David Beeghly
Adam Bell
Sherry Holcomb Benners
Sandra Benoit
Darla & Lawrence Berkel
Brenda & David Berry
Jane & Alexander Berry
Jan & Martin Betts
Liza Marie Bicomong
Gretchen Biernot
Jacqueline Bitler
Laurie Black
Katherine Blackburn
Sabrina Blackett
Leslie Blackwell
Maureen & Terence Blackwood
Su Anne & Jeff Blair
Thomas Blake
Lois & Robert Blumenstein
Stephanie Boatwright
Marsha Bobbitt
Bokinsky Family
Mary & Ernest Bolt
Dorothy Bolton
Bon Air Christian Church
Bon Air United Methodist Church
Betty Borton
Sara Bostancic
Barbara & James Bower
Scotty Bowie, Jr.
Kamila & Tripp Bowles
Cynthia Boyd
Anonymous
Annette Boyette
Carolyn & Nelson Boykin
Leigh & Jonathan Brabrand
Kumiko Bracewell
Joel Bradner
Susan & Brian Bradshaw
Sharon & Robert Brager
Mark Braley
Wanda Branch
Jeanne Branch
Aretha Eylane Branch
Darlene & Hank Brent
Claudia & Norris Brickhouse
Martin Brill
Mary Lou & Matt Bristol
LaChanda Britt
Angela Brown
Melissa Brownstein
Margaret & Robert Bruckhart
Michael Bryner
David Bucheit
Arthur Bueche III
Mary Jo & Thomas Bunce
Barbara Burke
Margaret & Bud Burke
Jill Burke
Gwendolyn & Kevin Burke
Eliose Burke
Sheryl & Benjamin Burrell
Sheila & Allen Burris
Mary Buttner
Susie & Tom Byer
Tracy & Raymond Cady
Sandra Cage
Ruth Calder
Christopher Campbell
Elizabeth Cancro
Bob Carden
Susan & David Carminucci
Maria & James Carreras
Michael Carrico
Sheri & John Carrico
Colette Carson
William Harden Carter
Kathryn & Joe Catina
Karen & Steven Catrow
Lynne Chambers
Jane Chambers
Elsie Forsyth Chambers
Karl Chang
Ernest Chappell, Jr.
Charity Partners Foundation
Mary & J. Clarke Chase
Douglas Chaulklin
Marjorie Cheatham
Jerome Cherry
Virginia Chewning
Anonymous
Jenna Childress
Curtis Chisholm
Robert Christenson
Kelly Chroninger
Church World Service
Amy & Frederick Clark
Christine Clarke
Ken Clayton
Anne & George Cleveland
Susan & John Clifford
Roger Clifton
Dorothy Cluverius
Renee Coates
Pamela & John Cobb
Doug Cohen
Debra Cole
Marvin Cole
Carolyn & Mark Coleman
Edward Coleman
Joyce Collier
George Comstock
Anne-Marie & Andrew Condlin
Joan & David Conners
Stephanie Conners
Becky Conti
Beulah Conyers
Gary Cooper
Virginia Corrigan
Virginia Louise Corson
Margaret Corwin
Anonymous
Shelia & Robert Cosby
Doris & Harold Costley
Doug Couvillion
Linda Cox
Katherine Craddock
Mr. & Mrs. Walter Craigie
Janet Crawford
Sheila & David Crawford
James Cremins
Arthur Croft
Mr. & Mrs. John Cronly III
Michael Crowley
Kristin & Stephen Cummings
Bruce Curran
Anonymous
Susan & Craig Custer
Betty & James Cutler
Pamela Cyr
Eileen Dahlstedt
Georgette Daniel
Laura & Bill Danzeisen
Emidio D'Ascanio
Paulette Davidson
Reginald Davis
Edna Anthony Davis
Lauriston Davis
Patricia Day-Terry
Rosamond Dean
Tomako Deaner
Brian Deasy
Lisa Decker
Sharon DeFur
Carol DePuy
Carole DeRoche
Gail & G.R. Deved
Dean Devereaux
Claudia & Wayne Diehl
Annmarie Dillahunty
Joan Dilworth
Robert Myron Disse
Kevin Divins
DNL Insurance & Financial Services, LTD
Patrick Dobbs
Mary Lou Doherty
Stacey Dokos
Linda & John Donahue
Donna A. Burns DDS, PC
Anonymous
Marthlene & Hilbert Dorn
Barbara Dowd
Russell A. Cleveland DDS, PC
Adam Drimer
Mary Duffer
Sue Duganne
Charlie Wayne Duke
Allison Dunaway
Janet Duncan
Teresa & David Duncan
Duncan Memorial United Methodist Church
Leslie Shawn Dunham
Susan Dunlap
Katherine & Christopher Dunn
Molly & Drew Dunnington
Onyx Book Club
Anonymous
Donald Duvall
Thomas Dwyer
Lauren & Justin Earley
Ruth & James Earwood
Barbara Ebert
Elisabeth Edelman
Donna Edwards
Tina Egge
Eidson & Son Concrete & Repair, Inc.
Mary Eldredge
Roberta & Howard Elford
Diana & Andrew Ellen
Melinda & Douglas Elliott
Lynn Ellis
Rob Emblidge
Ernie Emerick
Gregory Ericksen
Keith Everton
Fad Family
Kelly Fair
Jason Fair
Everett Fairlamb III
Edith & Barry Faison
Faith W. Trent DDS, PC
Pamela Farrar
Susan & Michael Farrell
Norma Ferby
Kevin Ferguson
Mary Ferguson
Geraldine & Robert Ferguson
Alisa Ferguson
Lynn & Charles Fielding
Jane & James Fields
Mary Anne & Theodore Fighera
Dorothy Fillmore
Nancy & Jerald Allen Finch
Kathleen Finderson
First Presbyterian Church
Kathryn Fischer
Jason Fiske
Donna & Rick Fitzgerald
Gayle Fix
Lorena Flanagan
Donna Fletcher
Susanna Florance
Alice & George Flowers
Julie Forbes
Merinda Ford
Andrea Ford
Fork Church Episcopal
Renate Forssmann-Falck
Dianne & James Forsythe
Barbara & Mark Foster
Gail Fottrell-Jones
Minnie Fournia
Sue & Mert Fowlkes
Mary Ann Franck
Ellen Frank
Debra Franklin
Kay Franz
Jean & Arnold Frederick
LaShawn & Hartwell Freeman
Mary Freundt
Anonymous
MaryJane Fuller
Melvin Gaddy
Virginia Galli
Susan Galvin
Diane & Anthony Gambardella
Arlene & Richard Garlock
Heather Garnett
Caroline Garrett
Margie Gausby
Stephanie Gausby
Kelly Gay
Charles Gerena
Steven Gerencser
Lori Gettler
Susan Gholston
Susan & Larry Gidley
Patricia & Martin Giles
Betty & Franklin Gillis, Jr.
Ginter Park Baptist Church
Joyce Girdy
Janice Glass
Kathryn Glazer
Global Impact/Pitney Bowes Employee Fund
James Goggins
Katherine Goldman
Jackie Gonsalves
Nancy Goodman
Carol & Charles Van Goor
Huey Gordon
Michael Gordon
Jane & Roger Gorey
Diane Goulet
Grace Covenant Presbyterian Church
Patricia & Dan Gracey
Stuart Grandis
Katharine Gray
Lisa Gray
Sharon Gray
Greenwood United Methodist Church
Jennifer Grenzebach
Dana Gresham
Brian Griffen
Elizabeth Griffin
Kay & Daniel Grinnan
Robert Grymes
Regine & Arthur Gunlicks
Mary Guthrie
Mireya Guzman
Gloria Haar
Terry Hackworth
Denise Halderman
Samuel Hall
Tiffany Hall
Tonya Hall
Donald W. Hall
Marie Hallbert
Debra Halloway
Alexander Wolman & Terri Halperin
Lindsay & Brenton Halsey
Stephen Hamilton
Mr. & Mrs. H. W. Hamlett, Jr.
Ann Hamric
Karen Hand
Catherine Hanley
Michael Hanna
Hanover Evangelical Friends Church
Susan & Milan Hapala
Lois & John Harcum
Elvie Hardy
Tegan Hare
Shanon Harley
Reno Harp
Jeanne Harper
Faye Harris
Charlene Denise Harris
Freya Harris
Steven Harrison
Regina Hart
Sandra Hartley
Nancy & Gary Hartwell
Nicole Lynn Harwood
Jeanette Hatcher
Cheryl Haverstein
Andre Hawkes
Michael Hawkins
Kathryn Hayfield
Paul Haynes
Martha & Thomas Heiser
Anonymous
Mildred & Herbert Heltzer
Rebecca Henderson
Sherry & Michael Henig
Kathe Henke
Eileen & Wes Henry
Beth Hensley
Lisa & John Herrmann
Mike Hewlett
Pauline Heywppd
Christopher Hilbert
Ruth & William Hill
Lynda Hilliard
Sarah Hinderliter
Cary Hintz
Sylvia & Linwood Hobgood
Kathryn Hodnett
Matthew Holland
Jean Holman
Rachel Holmes
Mary & Byron Holmes
Willie Holt
Homeward
Mr. & Mrs. William Hoofnagle III
Kathryn & Michael Hoover
Amelia & Roger Hopkins
Gerald Hopkins
Harriette & Michael Horn
Adrienne Horton
Mary Therese & Christopher Howell
Diana Hubbard
Karl Huber
Ann Hughes
Mary Hughes-McIntyre
Deaun & Harold Hughey
Reverend Charles Hunt
Kathryn & Robert Hunter
Samuel Hurst
Heather Iddings
Erica & Richard Inge
Gabriele Inge
Dallas Irby
Barbara A. Ivey
Andrea Jackson
Eileen & Nate Jackson
Brenda & Richard Jacobs
Elaine Jafolla
Diane & Julius Jaskot
Monica Jefferson
Cynthia Jefferson
Allan Jemi-Alade
Cynthia Jenkins
Laetitia & Finn Jensen
Janice Jesse
Jonathan Jester
Alice Jesudian
Thomas Dwight Jewell
Jennifer John
Derek Johns
Elizabeth Johnson
Bruce Johnson
Elizabeth Johnson
Tommy Jones
Andrew Jones
Celestine Jones
Robert P. Jones
Addison Jones Jr
Kellie Jordahl
Nancy & John Jordan
Diane Jordan
Molly Jordan
Charlene Jordan
Steve Jowers
Janae Joyner
Lee Anne & Bill Judkins
John Jurgens III
Mr. David Kaechele
Phyllis Katz
Cara Kaufman
Tinky Keen
Diane & Thomas Kellam
Nancy Kellam
John Kellum
Josephine & James Kelly
Anonymous
Edith & Dale Kennedy
Charles Kennington
Denise Daniel Kern
Mr. & Mrs. Trent Kerns
Laura Kewer
Judy Kieff
Laverne & William King
George King III
Donna Kinley
Shea Kinser
Elizabeth & Paul Kipps
Sarah Kirchner
Marilyn & Barry Kirkpatrick
Betty Klemm
Robert Kline
William Kohlroser
Kroger Stores
Doris & Gerald Kron
Lakeside Presbyterian Church
Peggy & Courtland Lambert
Lynne Lancaster
Sonia Land
Fred Landon
Mary Langer
Anthony LaRocca II
Jennifer Ellis Lattimore
Claire Lau
Susan & Walter Lawrence
Sally & Fontaine Lawson
Tom Layman
Karen & Karl Leonard
David Lesher
Carolyn Leung
Elizabeth & Danny Lewis
Gail & Joel Lewis
Laura & Bennett Lewis
Edwina Linares
Dr. & Mrs. Steven Linas
John Lindner Jr.
Janet Livick
Susan Loan
Jasmine Lofgren
Jane Long
Katherine Lowden
Emma Lowry
Melissa Lubin
Barbara & Edward Lucas
Suzanne & Donald Lucia
Dale Lucy
Lutheran Church of Our Saviour
Jennifer Luzzatto
Peter Macheras
Nancy MacKay
Ruth MacMillan
Tonya & Charles Mahaffey
William Maixner
Betty & Douglas Malaspino
Kenia Maldonado
Angela Malloy
Lynn & David Maloney
barbara Mann
Jonathan Marlton
John Martin
Maureen & David Martin
Carson Martin
Patricia & Harry Marxen
Linda Mason
James Massie III
Beata Mastalerz
Sarah Masters
Charisse Cannon-Matthews
Dorothy Mattox
Catherine & Alan Mays
Robert McBane
John Accordino & Anne Marie McCartan
Lucile & Gerald McCarthy
Ralph McCarty
Lisa McCloughan
Jo Ann & Thomas McCracken
Ann & John McCulla
Deanna & Michael
Jane & William McDaniel
Sarah McDonald
Owen McFadden
E.J. McGarry
Bradley McGetrick
Alexander Tartaglia & Eileen McGill
Denyse McGraw
Anna Nolde McKenney
Lisa McKnight & Jan Reid
Catherine & Gary McLaren
Annette & Greg McMahan
Richard McWhorter
Meadows UrQuhart Acree & Cook, LLP
Novalene & Norman Melchert
Jill Wynn Melichar
Reba Mendoza
Timothy Merritt
Tina & William Michael
Scott Michaelis
Kirsta Millar
Jackie Miller
Anna Miller
Robert Miller, Jr.
Ross & Gordon Millikan
William Millsaps Jr.
Mary Beth & David Modena
Dr. & Mrs. Allen Mollen
Lauren Monroe
Francis Montemurro
Gertrude Moolenaar
James Moon
Heather Moon
Phyllis Moon
Constance & Glenn Moore
Correll & Thurston Moore
James Moore
Sandra Morris
Erica Morris
Linda & Stephen Morrisette
Carolyn Morrison
Anonymous
Nancy Morton
Ellen Moseley
Michelle & Donald Mosier
Karen Mullin
William Fred Mullins
Suzanne Munson
Mary & James Murphy
Cheryl Murphy
Kathryn & Justin Myers
Carol Nance
Erin Nantz
Candace & Raymond Nasser
Nationwide United Way Campaign
Polk Neal, Jr.
Tricia Needham
Pamela Needham
Network For Good
Christopher Newhouse
Nina &Broadie Newton
Ivy Nichols
Caroline & John Tyler Nichols
Peggy Nieder
Prince & Edward Norfleet
Susan Northrop
Becky & Joel Nuckols
Paul Nunnally
Karen & Jere O'Brien
Marlene O'Dair
Mr. & Mrs. John O'Dell
ITT Technical Institute Academic Affairs
Christine Olson-Vickers
Karen & Jeffrey Omohundro
Bonnie & Mark Orzolek
Dolores & Thomas Owens
Zachary Owens
Diane Owens
Brianne Packer
Harriette & Alan Padgett
Anonymous
Aaradhana Palle
Jeffery Palmore
Rama & Anand Pandurangi
Carol Parke
JoAnna Parker
Britten Parker
Lois Parker
Edward Parsons
Praksha Patel
Debbie & Richard Paul
Julie & Michael Paulette
Mary & Bill Pawelski
Katherine Payne
William Pendleton
Mary Lou & Danny Pennell
Winnie Pennington
Mary Pennock
Roberta Perry
Suzanne & Wayne Perry
Nancy & Samuel Perry, Jr.
Kathy & Philip Perzanowski
Kathy Peters
Eugene Petrasy
Donald Piacentini
Betsy Cloud Pike
Pamela Pike
Jeanette Pittman
Daniel Poates
Margaret & Michael Poegl
John Poindexter III
Thomas Polidor
John Pope Jr.
Linda Barksdale Porcher
Meta & Earl Potts
Sandra Powell
Cleo Powell
Monique Powell
Teresa & Thomas Powers
Sheila Preville
Christopher Price
PricewaterhouseCoopers
Michelle Pritchett
Kathy Quamme
Elizabeth & Mark Racheau
Mary Rainess
Kathy Rainey
Virginia Randall
Elizabeth & Robert Rathert
Larry Rauppius
Re/Max Commonwealth
Louise Reed
Victoria & Richard Reese
Lisa & Drew Reiferson
Lieselotte Reimann
Reveille United Methodist Church
Diana & Richard Rex
Janice & Robert Reynolds
Julia & Courtenay Reynolds
Joan & Russell Reynolds
Karl Wayne Rhodes
Susan Rhodes
Audrey & Henry Rhone
Lee Rice
Jennifer Rice
Regina Rice
Marvin Pettit & Judy Richardson
Ann Nuckols Richmond
Richmond Christian School
Elizabeth & Allen Rider
Kevin Riedel
Deborah & Robert Riggan
Kim & Paul Riley
Nancy & Sterling Rives
Nancy Rizor
Kathy Robinson
Shaun Rodeheaver
Miriam & Federico Rodriguez
Paula & Dale Rogers
Anonymous
Sue & Walter Rogers
Angela Roisten
Lori Ann Rojas
Carolyn Roney
Barbara & John Rose
Kathleen & Richard Rose
Sherry & Steven Rosen
Rene Roth
P. Rucker, Jr.
Elizabeth & Ray Rule
Elizabeth & John Rupp
Elaine Rush
Kimberly Russell
Dee & Leonard Rutledge
RVA-DJ
Melissa Rzasa
Gregory Sager
Keri & Timothy Gohman
The Fraizer Family Charitable Fund
Virginia Flynn
Paige Fitzgerald
Susan Ferrell
Thomas Fauls
Linda Ely
Vera Ellison
Precious Elliott
Erin Dudley
Sue & Joe Driscoll
Betsy Downey
Heidi Dix
Kevin Dexter
Regina Depriest
Lauren Deacon
Kenneth Davis
Emily Cuison
Lisa Crumpton
Lynda Crouse
Byron Craig
Bernice Cilley
David Carter
Henry Burt II
Trudi Brown
Burt Brooks & family
Chad Brady
James Bjorson
Carl Bivens
Lauren Birriel
Jackey & Joel Bieber
Alexis & Bob Benfanti
Lile Benaicha
Pamela Belleman
Christine Barth
Bank Of America/Merill Lynch
Amanda Arwood
Shadia Allen
Melissa Aikman
Neal Yeomans
Yvonne Nash
Cynthia Morgan
Lori Lape
Jeffrey Elliott
Dawn DiBenedetto
Robert Braxton
Helen Zuelzer
Anonymous
Jacqueline & Ronald Zich
Anonymous
Phoebe & Bizhan Zarnegar
Amanda Zack
Anne Young
Dorothy Young
Carol Young
Diane York
Jean Yerian
Elaine & Archer Yeatts
Shana Yawson
Betty Bradshaw Yates
Andrew Yanovitch
Galya Yankulova
Roy Yamamoto
Patricia Wright
Karen & Stan Wright
Nancy Wright
Dare Wrenn
David Worrie
Cynthia Woody
Landon Woody
Jane & John Woods
Angela Woods
Woodlake United Methodist Church
Anonymous
Marie Wood
Suzanne Wolstenholme
Mary Anne & Patrick Wolfe
Lane & Charles Witthoefft
Isabella Witt
Steven Wisner
Julianna Wilson
Brian Wilson
Shelley Theresa Williams
Ann & William Williams
Mary Williams
Harriet & Wyman Williams
Melissa & Bruce Williams
Mr. & Mrs. John Williams
Mr. & Mrs. J.F. Williams III
Susan & Ronald Williams
Karen & Jerry Williams
Geline Williams
Leon Wilkinson, Jr.
Erika Wilkins
Don & Charlene Wilhelm
James Wicker
Katharine Wibberly
Denise Whitman
Tonya Whitlock-Robinson
Susan Bryce Whiteside
Kathy & Richard Whiteside
Barbara White
Patricia & Michael White
John Westrick
Westover Hills United Methodist Church
Theresa Weston
Westhampton Baptist Church
Andrea Westcot
Judith West
Brenda & Stephen West
Jeanette & John Welsh
Lisa Wehrmann
Donna & Thomas Weed
Karen & Sean Webb
Philip Michael Webb
Jerry Edward Webb
Gary Waynick
Jane-Page & Eugene Watson
Terry Glenn Watkins
Susan Warner
Nancy Warman
Kaitlyn Wark
Joseph Walton
Dennis Walter
Michele & John Walter
Henriette Walsh
Joy Marie Walsh
Polly & Chuck Wall
Judith Waldron
Anonymous
Joni & Edward Wade
Heather & Paul Wade
Thinh Vu
Virginia & Wayne Virag
Kevin Vincavage
Angela Vickers
Yolanda Vernon
Kurt Vernon
Verizon Foundation
Elizabeth Vann-Turnbull
Nicole & Chad Vanderslice
Joyce Van Etten
Mr. & Mrs. E. Massie Valentine, Sr.
Carolyn Valentine
UPS Ground Freight, Inc.
United Way of Williamson County
United Way of Rhode Island
United Way Of Hopewell-Prince George
United Way of Central & Northeastern Connecticut
Teresa Tyson
Herbert Barrow Turner
Charles Turner
Ronald Turkaly
Evelyn Tucker
Nancy Tucker
Tsena Commocko Baptist Church
Barbara & William Trust
Ruben Trevino
Cheryl & Kenneth Trainum
Rita Faye Toney
Shalor Toncray
Dr. & Mrs. Charles Todd Jr.
Pam & Ian Titley
Trang Tilley
Sharon Thrower
Kevin Thrasher
Renita Thornton
Kim Thompson
Dorothy & Glenn Thomason
Jeffrey Thomas
Karen Thomas
Michael Thiongo
Martin Thiel
Christine & Robert Theakston
Heather Abbott Theakston
The Robert & Lisa Hafker Charitable Fund
see note for each donation
Carolyn & Darrell Tetterton
Susan Terry
Sue & Francis Terminella
Shatima Taylor
Barbara & William Tavenner
Marion Tatum
Ruth & Richard Szucs
Debra & Raymond Swiderski
Paula & Charles Swartz
Tory & Theodore Susac
Surgical Associates of Richmond
Mary Helen & Robert Sullivan
Phil Stumpf
Teena & Tim Stuller
Patricia Stuckey
Callie Stuart
Sts. Constantine & Helen Greek Orthodox Cathedral
Martha Struble
Joan Stromberg
Niki Strogonov
John Stone
Clara Stokes
Theresa & David Stipes
Shirley & Charles Stevens
Melanie & Gregory Stephens
Ingrid Stenbjorn
Carol Steiner
Julie Lynn Staub
Robert Staley
St. Mary's Catholic Church
Larry Spurzem
Karen Sposa
Kirk Sparrow
Anne & Chris Spanos
Lois Spahn
Anonymous
Tsveti & Eddie Sowers
Southminster Presbyterian Church
Lynda South
Ursula Sorensen
Mr. & Mrs. Brian Sommardahl
Larry Socha
Helga Soares
Vernon Snipes
June Smyth
Mary Smith
Deborah & Crawford Smith
Reatha Smith
Louise & Daniel Smith
Wendy Smailes
Anne-Marie & Ian Slinkman
Carla & Dale Slagel
Elena & William Skrobacz
Judy & David Skove
Ashley & Travis Sipe
Sims Family
Thomas Simpson
John Simmons
Catherine & Scott Sill
Sandra Lee Silas
Sherry Shrader
Charleta Shorts
Betsy Shires
Jody Sherman
Patricia & George Shepherd
Stephanie Shepard
James Shelton
Theresa & Henry Sheffler
John Sexton
Seventh Street Christian Church
Deborah & David Seitz
Kanitha Seguin
Susan & Gene Seamster
Robert James Scott
Colette & Bob Scott
Susan Bailey and Sidney Buford Scott Endowment Trust
Ramona & Richard Schweitzer
Mary Michael & Rich Schweiker
Janet & Philip Schwarz
Anne-Marie & Lawrence Schwartz
William Schwartz
Schwab Charitable Fund
Stephen Schroffel
Anita & Robert Schneider
Lori Schmiege
James Schlake
Irving Scherr
Anne & Charles Scher
Harriet Schanzer
Helen Saunders
Julia Sauder
Kristin Sardeson
Debbie & Robert Sangster
Sue Sampson
Savon Sampson
Sarah & Michael Samick
Jill & Andrew Salp
Forrest Graham
Eve Grant
Clair Halasz
Christine & Donald Hall
Sarita Henry
Diane & Robert Holmes
Honeywell International
Cynthia & George Howell III
Mary Hunter
Ann James
Samuel Janney
Tiffany Jenkins
Kimberly Jennings
Thelma Jones
Nancy Ellen Keane
Virginia Lane
Kim & Robert Lesniak
Nancy & Bill Logan
Mitzi Lowe
David Curtis & John Martin
Kenneth McArthur, Jr.
Katherine McClure
Kevin McCusty
Marilyn Milio
Paula Morgan
Matthew Murcko
Nora Nickel
Heidi Nunnally
Cari Overby
Wini Parker
Martha Petty
Berkeley Polson
Powhatan High School
Megan Rhodes
Thomas Royer Sr.
Jerrold Samford
Leigh Schreher
Mark Shiembob
Nancy Simpson
Ashante Smith
Catherine Smith
Frances Smith
Elizabeth & George Somerville
Sonja Sowder
Carol Stanton
Mary (Wink) & Wally Stettinius
Marla Stewart
Elizabeth Strauss
Josephine Strulson
Thiagarajan Subramanian
Mary Cabell Sulc
Sam Tannich
Clyde Toms
TruDiva and Community Social Club, Inc.
Susan Unger
Laura Vetter
Michael Warwick
Rosalind Watkins
Gary WEbne
Allyne Webster
Erin Whaley
Stephanie Williams
Thank you to following organizations, foundations, and individuals who donated to support The Healing Place during the 2014-2015 Fiscal year: 
Chairman's Circle ($10.000+)
Altria Companies Employee Community Fund
Altria Group, Inc. Matching Gifts Program
Anonymous
Daisy and Thomas Byrd
Deep Run High School
First Presbyterian Church
Brenda and George Gibrall
County of Henrico
Sarah and Tom Holland
HRH Charitable Fund of The Community Foundation Serving Richmond and Central Virginia
Jenkins Foundation
Kelly Johnston
Loupassi Foundation
Massey Foundation
City of Richmond
Janet and Brad Sauer
The William H.-John G.-Emma Scott Foundation
Melinda and Robert Sledd
Catherine and H. B. (Tom) Thomson III
VCU Health System Administration
Virginia Department of Housing and Community Development
Virginia Housing Development Authority
Virginia Non-Profit Housing Coalition
Brenda and Daniel Walker
Circle of Hope ($5,000 – 9,999)
Anonymous
Grace and Holy Trinity Episcopal Church
Bruce B. Gray
Constance C. and Linwood A. Lacy Foundation
Lloyd Ann Charitable Fund
Markel Corporation
Mr. and Mrs. E. Bryson Powell
Linda Quirk Foundation
St. James's Episcopal Church
The Wonder Fund of The Community Foundation Serving Richmond and Central Virginia
Circle of Caring ($2,500-4,999)
Dominion Virginia Power
Christine and Donald Hall
Cynthia and George Howell III
The JHW Foundation, Inc.
The Kleane Kare Team, Inc.
Santa Clara Pueblo
Barbara and James Ukrop
Circle of Partners ($1,000 to 2,499)
Charles Adcock
Lori N. Anderson
Anonymous
Gussie and David Bannard
Jeffrey Broitman
Eda Hofstead Cabaniss
Alison and Michael Carter
Jessie and Kenneth Cochran
Collegiate School
Commonwealth of Virginia Campaign
Disciples Women of Virginia
Jean and Rob Estes
First Baptist Church
General Cigar Company, Inc.
Haley Buick GMC
Linda and Jerry Hancock
Terrell and Elliott Harrigan
Jane Jones
KPMG LLP
David McKay
Caroline and Marshall Morton
Lindalee and Richard Mulligan Jr.
Nancy and Bruce Oglesby
Sallie and John Philips
RECO Industries, Inc.
Suzanne and Frank Reichel III
St. Matthias' Episcopal Church
St. Stephen's Episcopal Church
Daniel Schnur
Second Presbyterian Church
David Shuford
Haywood Taylor
Scott and Lilo Ukrop
Leadership Circle ($500-999)
All Saints Episcopal Church
Anonymous
Edward Baine
Jennifer B. and R. Brian Ball
Tenley and Wyatt Beazley
The Bond Club of Virginia
Karen Frazier Brewer
April Brickle
Carl D. Brown
Sharon and Gregory Collins
Margaret Corrado
Mr. and Mrs. Walter Craigie
Mary Lou Doherty
Pamela and Edward Henifin
June Jenkins Revocable Trust
Elizabeth Cabell Jennings
Patte Koval
Frank Laughon, Jr.
Luis Bunuel Fund of The Community Foundation Serving Richmond and Central Virginia
Jennifer and Sean McCluskey
Christine McConnaughay
The McShin Foundation
Chris and Kenneth Perry
Mr. and Mrs. Malcolm Ritsch, Jr.
The Rotary Club of Brandermill
St. Paul's Episcopal Church
Kathy and Chris Shepperson
Sixth Mount Zion Baptist Church
Suntrust United Way Campaign
Sally Temple
The Ukrop's Homestyle Foods Foundation
Wells Fargo Community Support
Kenan and Briscoe White, III
Circle of Patrons ($250-499)
Bulifant Properties
Kathleen Burns
Liza and Charles Cabell
Lynda Ellis
Sharon P. Eshler
Duvergne Gaines
Genworth Foundation Matching Gifts Program
Hamilton Lane Advisors LLC
Leigh Hilldrup
Colleen and Alvin Jackson
Elaine Kelly
June and Dan Lynch
Anne McDougall
Phyllis and Thomas Murphey
Gwendolyn Owens
Martha and Clifford Purvis
Steve Quinley
Renaissance Charitable Foundation Inc.
Richmond Psychiatric Society
James Scanlon
Marsha Sharpe
Barry A. Simmerman
Yvonne Smith
John Thomas Spencer
Catherine Stephens
Mr. and Mrs. E. Massie Valentine Jr.
George Vestal
David Waggoner
Sammie Lee Wiley, Jr.
Circle of Friends ($250 + below)
Linda Abbatiello
Monique and Jay Adams
Jerry Adams
Sharon Adams
Cherie and Greg Anderson
Anonymous
Frankie Leigh and David Armstrong
Colleen and Mark Atchison
James B, Baker Living Trust
Janice and Donald Beatty
Debbie and Steve Bell
Laurie Bowes
Laura and Mark Bowles
Jane Boykin
Regina and Arthur Boyle
Allen Bradley
Marilyn Breslow
Betsy Brister
Sarah and Gordon Brooks
Alice and Bernard Brzoska
Barbara Buell
Linda and John Bullock
Elizabeth Burns
Frances Caldwell
Jean Campbell
Carolina Point Women's Golf Association
Donna Carsey
Joseph Carter III
Betty Carter
Jeanne Cassin
Genevieve and Henry Chenault
Carla Patrice Childs
Church Women United
Meghan Clendaniel
Commonwealth Brokerage Specialists, Inc.
William Conkle
Cindy and Walt Conner
CowanGates
Joyce and Walford Crenshaw
Frederick Daniels
Chris Day
Tomako Deaner
Neill and Bryan Delaney
Robert Doares
Susan and Michael Donavant
Ann Dowell
Molly and Drew Dunnington
Amy Durham
John Dwyer
Earl Carr Electric Canada LTD
Eidson and Son Concrete and Repair, Inc.
James Enochs
Apryl and Kurt Fellenstein
Joyce Filius
Nancy and Jerald Allen Finch
Anna Fitzgibbon
Gwendolyn Fleming
Teresa Foog-Steed
Robert Foster
Mary Fox
Fox Pool Corporation
William Friedery
Louise Fry
The Garrett Foundation
Gilman and Bateman Inc.
Global Gas, Inc.
James Goodwin
Catherine and James Gravitt
Greater Richmond Partnership, Inc.
Katherine and Walter Green
C. Denise and Matthew D. Haas
Juanita Hagan
Craig Halbleib
Lori Hare
Tim Harris
Mary Katherine Haulton
Alta Hayes
Ann and Arthur Hendrick
Chris Hinkle
Sharon and R. Craig Hopson
Robyn Humphrey
Brad Hutcheson
Kathryn Ingram
A.G. Ingram
Anne and Thomas Jefferson III
Erin and Bryce Jewett
Frank Johns
Thomas Johns
Mary Jones
Renee Jones
Carol Joyce
Jane Joyce
Cindy and Jeffrey Kapinos
Kim and David Kmetz
Rafi Lakhany
Marcia Lawton
Cynthia and Timothy LeClerc
Robyn Lee
Myra Legg
Theresa and Charles Leutze, Jr.
Nora and Martin Lindsay
Marjorie and Daniel Lipinski
Donna Lira
Elizabeth and James Long
Gail and James Long
M I Supply Company
Patrick MacClenahan
Margaret Mahoney
Trina Marson
Annemarie Mattison
Mary Maxwell
James C. May Jr.
Sandra C. McCabe
Janet McComb
Mr. and Mrs. Robert F. McDonnell
Suzanne Melby
Genevieve Mellott
Jeanette Merchant
Vivien Mitchell
Dr. and Mrs. Joseph Morgan
Richard P. Mudd
Carol Mullins
Mary Murphy
Patricia Nichols
James Nielsen
John Norman
Anne and Robert Norris
Cindy and Steven Norville
Jutta and Joseph Olivier
Owens and Minor, Inc.
Paula Pardue
Tina and Wayne Pecht
Edward Lee Peters
Regina Pettaway
Deborah Plovish
Robin Plunkett
John Poindexter III
Elizabeth Pool
Canon Dr. Alonzo Pruitt
Mary Jane Przydzial
Michael Quillen
Carole and Stanley Rayner
Paul Rogers
Barbara and John Rose
Helen and James Ryan
Saint Gertrude High School
St. Philip's Episcopal Church
Debbie and Robert Sangster
Sami Sauma
Patricia Saunders
Sue and Will Schick
Michael Schuster
Elizabeth and Peter Seaman Jr.
Suzanne Sellers
Reginald Shaffer
Joell Shepperson
Robert Lee Smith
Elizabeth Soffee
Joyce C . and Thomas C. Spain
Dianne and Kevin Stanley
Karen Stanley
Catherine and Donald Staples
Harold Starke, Jr.
Claire and Thomas Stevens
Robbin and Edward Stiles
Timothy Storck
Robert Styer
Dr. and Mrs. E. Armistead Talman
Lynne and Wayne Tatum
Shannon Taylor
Dorothy and Glenn Thomason
Martha Thompson
Betty and Philip Tibbs
Tricia and Kevin Trent
Trinity Turf, Inc.
Patricia Tysiak
UPS Ground Freight, Inc.
Mr. and Mrs. E. Massie Valentine, Sr.
David Van Aken
Julie and Kenneth Vandenbroek
Nathan Verilla
Kathy and Robert Waldrop
Judith Wall
Joanna Walsh
Bonnie and Charles Warren
Debra Webb
Susan Wells
Jeanette and John Welsh
Renee Marie-West Ambrosia
Barbara White
Candace Wilken
Gail Williams
Helen and Harry Wilson
Jane Holliday Wilson
Kellie Wingold
James Woods