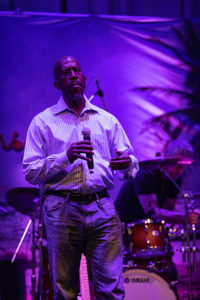 Sur has been in and out of active addiction for more than 30 years. He was 10 years old when he first tried marijuana.
He grew up in St. Louis, Missouri. His uncle and father were drug dealers. Naturally, he admired and idolized them.
"I really loved school and always excelled," he said.
As he got older, though, Sur began to sell drugs himself, including heroin. By 19, he tried the heroin he was selling. He dropped out of school to help his mom and his addiction worsened.
"I couldn't get away," he said.
Sur eventually moved to Virginia to pursue a job opportunity.
"I slipped in and out of use for the next several years," he said. "One day, I was at rock bottom….I had taken suboxone from an outpatient program. I wound up sleeping outside of The Diamond during one of the biggest rain storms I had seen since being here in Virginia."
Then, Sur found his way to The Healing Place.
"You learn how to become open-minded," he said. "You learn how to be vulnerable. You learn how to trust people. You learn about your disease."
After several months, he progressed into CARITAS Works, our workforce development program. 
"You have to have time to think about how you're going to construct your life after you leave here," he said. "I had to learn how to transition from selling drugs to working and living a life without drugs at all."
In the CARITAS Works program, Sur says he learned the values of team building, emotional intelligence, and how to properly prepare a resume.
"It reignited and reawakened my awareness of my own personal value," he said. "It made me see the worth of my humanity again. That's important because self acceptance and self worth help you connect to your skills and ability."
Sur completed CARITAS Works and commenced spring 2019. Today, he works in the Peer Mentor's office at The Healing Place.
"I get to help men every day like me," he said.
Soon, Sur will take the test to become a certified peer recovery specialist. He then hopes to return to school to complete his college degree. In his free time, Sur loves talking and spending time with his mother, sister and nephews. He also has an 8 year old son.
"He is my champ." Sur said. "I am so proud that I can be there for him."