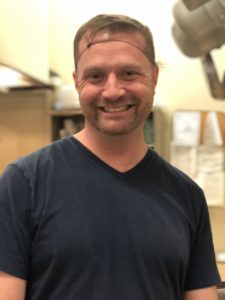 James Biel
Title: Kitchen Peer Mentor Supervisor
What That Means: I along with Ms. Jackie run the Healing Place Kitchen.
Background: I commenced from Works in September of 2017 and was hired on. My background as a chef has served me well in this role.
Hobbies and Interests: Cooking, reading, camping
I most want to Visit: Paris, France. Culinary capital of the world.
Favorite Place I've Lived: Germany as a kid. Travel, travel, travel.
I Can't Live Without: Starbucks
Best Part of My Service Position: Seeing clients grow and change.