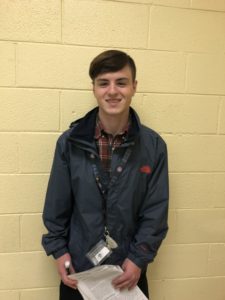 Nicholas Brunke
Title: AmeriCorps Transition Peer Mentor
What that means: In March of 2017 I finished the educational portion of The Healing Place program and made a conscious decision. I felt it would've been unnecessary to move on without giving what others gave me….guidance and love. I decided to be a Peer Mentor and as I stayed the course I was offered to move to the Transition role. I help keep the men on the path and doing the next right thing in giving guidance on how to balance their life and stay accountable for their actions. It is an honor and a privilege to be able to be an aide to those men who are steps away from hopefully obtaining Alumni status and completing The Healing Place program.
Background: I walked through the doors of The Healing Place in July of 2016 in need of a new way. As I was introduced I realized the new way of life is the better way. Staying on the course through my God, accountability, and great support…I completed the program in March of 2017 and became an AmeriCorps member in October.
Hobbies & Interests: In my free time I enjoy spending time with family, running, and watching my Patriots go to war on the field and more time than not get the job done. On occasion, I also like to get away when I can and go fishing at the river.
I Most Want To Visit: I would absolutely love to travel to Germany and discover my roots where the majority of my family tree falls. Always has been a place where one day, when the time is right, I will be able to go.
Favorite Place I've Lived: My favorite place I have lived in my life has to be my birthplace in Chicago, Illinois. The atmosphere and scenery is something that I can't put into words, especially Wrigley Field. The people are great and my whole family resides there. Chicago will always hold a spot in plans down the road.
I Can't Live Without: I can't live without my family as through thick and thin they've been there from the start. Whenever there's a problem in my life and I can't get ahold of my support group they're right there to give out guidance, love, and care. Can't thank them enough, but today my actions for them can speak more than the words.
Best Part Of My Service Position: Witnessing the beauty of the transformation in these men emotionally, physically, mentally, and spiritually is the highlight of my role here at The Healing Place.