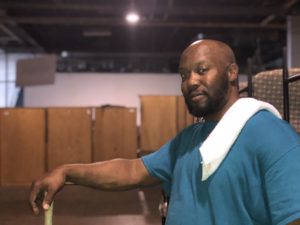 Rodney Green
Title: Warehouse Worker
What That Means: I work alongside AmeriCorps members and volunteers to provide the shoppers with furniture and then deliver them to the client's homes. Collect donations to be assessed, sanitized, and then organize the floor in preparation for clients to shop. In addition, we pick up donations from the community to provide to our most vulnerable neighbors.
Background: I grew up in Richmond, VA graduating from Huguenot High School after which I started my career in the food industry working my way up to the managerial level. I became familiar with CARITAS through community service requirements where I worked with men in the warehouse. After a couple of months of service, I was able to apply to become an AmeriCorps member.
Hobbies and Interests: I grew up playing basketball, football, and baseball and I still enjoy playing basketball with your neighborhood team. In addition, I love roller skating, playing scrabble, and spending time with family and friends.
I Most Want to Visit: I have a family member with a timeshare in Morocco and from all of their interesting stories I would love to go visit sometime soon!
Favorite Place I've Lived: I loved where I grew in the Maymont Neighborhood of Richmond City. I used to go paddle boating at Byrd Park and enjoy time with friends and family at the community pool. I spent a lot of time at the Boys Club of Richmond and enjoyed spending most of my free time outdoors exploring the local parks.
I Can't Live Without: My family because they have been extremely supportive of me during my recovery and helped me have the worth ethics I have today
Best Part of My Service Position: I love that I am able to give back to the organization that has given me so much during my recovery and more.