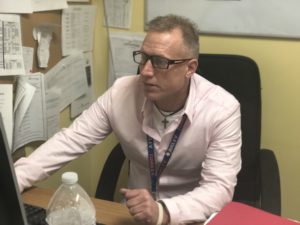 Sean Fournia
Title: Certified Peer Recovery Specialist/Peer Mentor Supervisor
What that means: I am a person in long-term recovery from Substance Abuse. I am certified by the state of Virginia to help others find a path to recover, to help reduce Stigma against substance abuse disorders and help connect others to resources that reinforce recovery.
Background: I was homeless, helpless and spiritually broken
Hobbies & Interests: Yoga, Church, Weight Lifting, Soccer, Surfing, Skydiving, Water skiing, Snow Skiing, FellowShipping, and Learning
I Most Want To Visit: Hawaii- to surf the North Shore
Favorite Place I've Lived: Richmond- Over here at CARITAS, I was able to find meaning and purpose in my life.
I Can't Live Without: My Spiritual connection with my higher power
Best Part Of My Service Position: Watching Men transform from hopelessness to productive members of our community