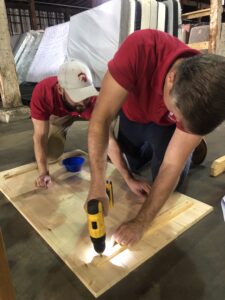 We miss our volunteers! Because of COVID-19, we've had to limit our in-person volunteer opportunities. Our urgent mission remains. We need your help to break the cycles of homelessness and addiction in the Richmond area. There are a number of ways you can help our programs thrive from a safe distance! Here are a few volunteer ideas for you, your family, office, and congregation to consider.
Build A Kit
Together, with your friends and family, you can create one of three "kits" to set our program participants up for success! Welcome Home Kits include household cleaning items used by clients served by the CARITAS Furniture Bank as they transition from crisis into a permanent home. Hygiene Kits include general self-care items including razors and shampoo. These are used by men and women served by the CARITAS Shelter and The Healing Place. Workforce Development Kits include shoe polish, travel bags, razors, and more. Men and women in the CARITAS Works class use them as they learn job and life skills.
How to do it: There are two ways you can do this activity. The first option is to collect funds to cover the cost of the items. With the funds you collect, purchase enough items to fill up a certain amount of kits. When the items arrive, you can set up an assembly line to set them up! The second option is to break up the item purchases by participant. Each volunteer can be responsible for purchasing a number of a certain item. When everyone has their items, set up a socially distanced assembly line! Drop off your kits to 700 Dinwiddie Avenue when they are complete!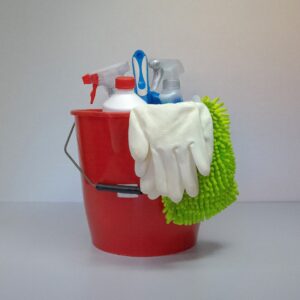 Build a Table or Dresser
If you fancy yourself a builder or creator, this may be the right volunteer opportunity for you! Even if you haven't built much, we make it easy to build furniture for our amazing participants! The CARITAS Furniture Bank does not receive sufficient donations of dressers, kitchen tables, or beds, so we are always looking for your help in finding solutions to help us fill this gap. You'll get hands-on volunteer experience in the comfort of your own home or other location.  It's really simple.
How to do it: Dining table and dresser kits are available for purchase at CARITAS for $60 per kit. Instructions and a tool list accompany each kit. Typically two to three volunteers take about two hours to build a table. Just fill out our furniture build form to get started! Drop off your kits at 1108 Gordon Avenue when they are complete!
Provide a Meal
This may be the most simple at-home volunteer opportunity of them all. Right now, we specifically need your help providing meals to women in our shelter program.
How to do it: If you are interested, please sign up for a meal opportunity using this link. When you sign up, we request 28 $10-$20 gift cards to Kroger, or $210 to $420 in gift cards per meal. We request that the gift cards be dropped off at our no-contact location at The Healing Place (700 Dinwiddie Avenue) in the mailbox outside.  Please label your envelope with "Attn: Jenn Patterson, Women's Shelter" and include your return address information. If you have any questions, please contact the Women's Shelter Program Manager Jenn Patterson at jpatterson@caritasva.org. Click here to sign up to provide meals.