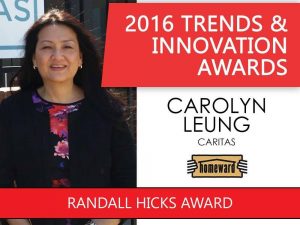 Senior Case Manager Carolyn Leung has been working with CARITAS for 12 years. On June 3, she was recognized in front of 200 Richmond area homeless services providers at Homeward's Best Practices Conference to Prevent and End Homelessness with the Randall Hicks Excellence in Homeless Services Award.
The Randall Hicks award is given each year to a homeless services staff person who works to raise the bar or set the standard to prevent or end homelessness for her clients. Randall Hicks was the recipient of the first Excellence in Case Management award in 2007. Randall was well known for his tireless dedication to people experiencing homelessness. After his passing in 2009, Homeward honored his namesake with this award.
Carolyn has attended the awards ceremony and conference every year. On the conference's 10th anniversary, she was honored to receive the award
"I guess I'm willing to dig a little harder and stick with clients as long as they need it," Carolyn said. "We're fortunate to have support from the administrative staff at CARITAS that allows us to stay with clients as long as we need to."
This leads to success, says Carolyn. The CARITAS Family Focus Program helps place approximately 95% of the families it serves in homes. Carolyn works to connect clients with other services that will create stability in housing, including jobs, parenting support, medical care and much more.
Carolyn has a long history fighting to end homelessness in Richmond. She has worked with organizations including YWCA, The Salvation Army, as well as Home Again. She originally began working at CARITAS as a substance abuse counselor. She then transitioned into a case manager role, a position she's held for nine years.
"We are housing-first focused," Carolyn said of the CARITAS Shelter team. "We work hard to serve one person a time and make sure they get everything they need."
Homeward's conference also featured presentations covering best practices and new developments in the field. Read more about the speakers and presentations at the event here.
Learn more about the CARTIAS Shelter here.