Got Heavy Problems? We Can Solve Them!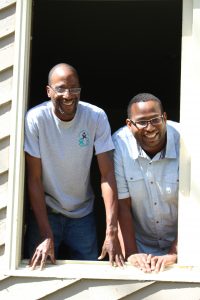 At CARITAS, we are experts at solving problems. We're are excited to introduce CARITAS Solutions! Our punctual and professional team wants to help solve YOUR heavy problems in a cost-effective way that also supports our mission to transform the Greater Richmond area.
How can CARITAS Solutions Help You?
Our friendly team can help you:
Clean out

a shed, attic, storage unit, a business or a home

Pick up

donations of household goods including mattresses and bulky, hard-to-move items

Dispose

of junk, broken items, electronics and more

Move locally

–you pack, we provide trucks and manpower

Hauling

just about anything from Point A to Point B within a 100-mile radius

There is no problem too small that we can't solve!
Who is CARITAS Solutions?
CARITAS strives for excellence and compassion in everything we do. CARITAS Solutions provides transitional jobs to men and women. Many of them have graduated from our CARITAS Works and The Healing Place programs. The quality of their work is monitored and reviewed by full-time CARITAS staff members who have experience leading businesses and complex logistics.
Why Should You Work with CARITAS Solutions?
Reliable, on-time and scheduled appointments
Professional employees dedicated to creating custom solutions for each job
Eco-friendly disposal of items that cannot be reused or refurbished.

Our broad range of services means you only have to make one call.

We are bonded and insured.
Items donated to CARITAS are eligible for a tax deduction. A receipt will be provided upon request.
Your fees and donations will support CARITAS, the region's largest homeless services provider serving more than 5,000 community members in need every year.

Value – exceptional pricing meets dedication to quality.
Here's what a few of our customers have said:
"Que and Michael were very accommodating, understanding – exemplified excellent customer service"
– Jennifer Boyle, Junior Achievement of Central Virginia, Corporate Moving Customer
"This was a huge time savings and it definitely came at the right price…every one of the men has been great to work with."
– Kay Bonds, Residential Clean-Out Customer
"I have worked with movers before, and I can honestly say that I felt you were the most efficient, understanding, hard working and professional I have encountered over the years!"
-Debbie Easy, Richmond Plastic Surgeons, Corporate Moving Customer
How Can I Work With You?
Step 1:Fill out this form.
Step 2: Call (804) 887-1593 or wait for a call within 1-2 business days after filling out the form.
Step 3: Confirm the details of your project, determine cost and set up an appointment.
Step 4: Remain on site to assist with moving decisions during your assigned appointment.
Step 5: Complete our customer survey.
Help us Spread the Word
CARITAS Solutions relies on your referrals for business! If you know of a business who needs to move or clean out their office, a friend preparing to sell his or her home, or a neighbor who needs to get rid of an over-sized sofa, please direct them to CARITAS Solutions! Share this web page via email, social media, and more. Every problem CARITAS Solutions solves helps us earn income to fulfill our mission of transforming lives and restoring dignity in our region.