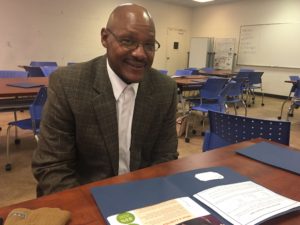 Toby's Story
Today, when you ask Toby if there is a woman in his life, he always answers the same way: "My granddaughter."
The corner of his eyes turn up when he talks about her. Toby has been working with the same company for three years. He loves going out for pizza and bowling with his friends.
He hasn't always been sober or held a steady job. Toby started using crack cocaine in 1996.
"In the environment I grew up, you smoked weed and drank," he said. "That's just what you did."
It didn't take long to get introduced to other substances. During the past couple decades, Toby has been incarcerated seven or eight times. He's spent a total of nearly eight years in jail for a variety of charges including petty larceny and possession. He's also been in and out of numerous treatment facilities, hoping to find help and a life of sobriety. Many of them were short-term programs, a month or so long.
"You can't get no recovery in 28 days," he said. "I thought I was cured, but I wasn't"
After his final charges landed him in jail, Toby knew it was time to find an answer. He didn't want to live behind bars any more. As his hearing approached, a friend told him about The Healing Place and CARITAS. He asked the judge if he could give it a try and he said yes. Toby entered The Healing Place in January 2014.
"I started sharing my experiences and listening, as well," Toby said. "I tried to remain humble throughout the whole process."
Toby moved through The Healing Place recovery program and eventually on to CARITAS Works.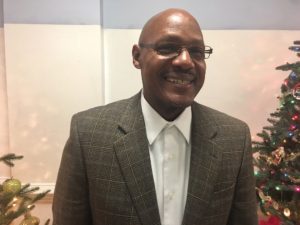 A Job Within Two Weeks
"I always evaded the questions about the felonies, now I know how to answer that," Toby said.
While a CARITAS Works student, Toby learned not only how to talk about his past, but he learned new interview skills, created a personal elevator speech and discovered what kind of job he might like to have and keep.
"I loved getting real feedback from people who interviewed me and the things I needed to work on," Toby said.
After the five-week program, Toby commenced with his fellow Works classmates. He remembers hoping to be awarded the best-dressed superlative, but earned best team player instead. His friends came to watch him receive his certificate and share his story in front of CARITAS staff, clients, and supporters. It's always an exciting day. What was most exciting though, said Toby, was his first paycheck.
After commencement, Toby went to work applying for jobs in the CARITAS Works computer lab. He worked hard on his application to work as a machine operator at a local factory. He remembers taking more than a day to complete the application. When he finally submitted it, he received a call within hours. He went in for an interview on Wednesday, filled out paperwork on Thursday, and he was working by Friday.
CARITAS AfterWorks
Three years later and Toby still works with the same company. He's been promoted several times and continues to stay connected to CARITAS through the AfterWorks program. He comes to the after hours classes that cover topics about budgeting, credit, brushing up on interview skills and more.
"I had no idea how to get credit," Toby said. "I didn't even know any of this stuff until I came to the AfterWorks class. Next thing you know you, my credit score is 700. It didn't happen overnight, but I couldn't have done it without CARITAS."
The AfterWorks program is available for all Works graduates. It keeps clients connected to each other and to knowledge that could lead to a new job and more stable life.
Because the program has been such a success for so many men and women, CARITAS has extended its program hours. The computer lab is now open on Wednesdays 4:30 p.m. to 7 p.m. every Wednesday.  Graduates will be use the computer lab to access  emails for new job opportunities and to manage other personal matters.  In addition, CARITAS Works staff have added a self-care curriculum to AfterWorks.
We're excited to offer new opportunities for personal well being and advancement for men and women who have successfully begun new lives of dignity and hope. Their journey is much more than finding a path to self sufficiency. It's about finding peace and hope. It leads to moments like those Toby now shares with his granddaughter.
"Being clean and getting a job like this has allowed me the opportunity to be a grandaddy to her," he said.