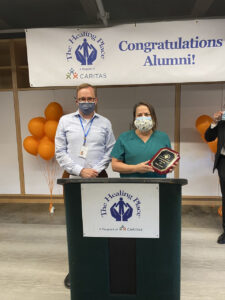 "Daily Planet Health Services is the largest and most involved partner with our mission here at CARITAS," says President and CEO Karen Stanley.
CARITAS serves the region's most vulnerable men and women. They face homelessness and substance use, which are often amplified by other crises and traumatic experiences. Similarly, Daily Planet Health Services (DPHS) focuses on serving our Richmond neighbors experiencing a housing crisis or struggling with substance use disorders.  
"Our partnership has always been a natural fit," says DPHS Chief Medical Officer Dr. Patricia Cook. "CARITAS provides consistent shelter, which allows us to provide consistent–and therefore more effective–care to these men and women."

Most recently, the DPHS led CARITAS through the many difficult and unexpected decisions and challenges of the pandemic. During the 2021 Alumni Awards Ceremony, CARITAS honored the DPHS team as Community Partner of the Year. 
"We have tremendous gratitude for their professionalism, guidance, and service they provided to our vulnerable program participants," Stanley says. "We were able to pick up the phone anytime we needed as we had to pivot weekly if not daily."
From developing protocols for positive COVID cases to administering vaccines to staff and participants, DPHS has kept CARITAS's doors open and the staff ready to serve.

"We're frontline professionals and this partnership made that more clear than ever throughout this pandemic" says Stanley. 
The partnership begins long before 2020, though. Physicians and nurses have been seeing men at The Healing Place for many years on an almost weekly basis. This partnership has grown to touch our shelter program participants. Medical examinations, dental health care, mental health care, and group therapy include the growing list of services the nonprofit offers to residents of CARITAS programs. 
"The real challenge we've all documented over the years is the concurrence of disorders," says The Healing Place Director Stephen Vicoli.  
Studies show that half of those who experience a mental illness during their lives will also experience a substance use disorder and vice versa.  Similarly, about one-third of those with mental health disorders experience homelessness according to many studies.
"In addition to mental health disorders, we are seeing an increasing number of medical challenges including physical disabilities, diabetes, cancer, and more," says Stephen. 
Among the DPHS team members who have a regular presence at CARITAS, psychiatrist Dr. Christopher Kogut is warmly known as "Dr. K" by residents and staff. 
"It's a population with a lot of complicated problems that often compound one another: psychosocial challenges, poverty, incarceration, substance use disorders, and more," Dr. Kogut says. "We can provide regular, consistent care, medication management, and therapy, which is difficult in any other circumstance for this population. If we didn't see them here, they'd be in the emergency room or worse."
As DPHS professionals support the medical, mental, and dental health needs of CARITAS program participants, our staff provide job training, housing support, social security guidance, and a myriad of other case management services and resources.  
"We've seen the positive impact," Dr. Kogut says. "People have done really well and transitioned to employment, housing, and independence."
Moving forward into Winter 2021, this partnership will remain vital to CARITAS's mission. The two organizations will work closely to ensure all participants and staff at CARITAS are vaccinated and prepared for future challenges related to the pandemic and beyond. 
"People deserve access to a bed, a bathroom, and life-saving services when they are sick," says Dr. Cook. "In partnership with CARITAS, we're able to make sure that basic human right is available to everyone."
Learn more about Daily Planet Health Services.
Donate to support our work on the frontlines.