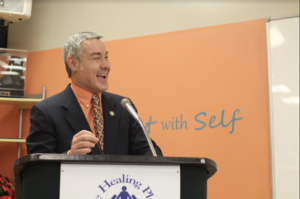 David remembers taking his first drink. He was 10 or 11. He reached into his father's liquor cabinet and gave it try. After that, he didn't touch alcohol again until he was 14. He didn't know then, but his father was an alcoholic.
After his family moved to Pennsylvania, David earned a spot on the varsity baseball team at 14. He was a good student and hung with the popular crowd. Here, he was introduced to marijuana. He enjoyed the drug, but not as much as alcohol. He eventually began stealing alcohol from his father, who never noticed. He was the life of the party, supplying his friends with the fun.
Substance use disorder slowly took hold of  David. Like many, he didn't see it coming. Neither did his friends or family. He moved to Florida after college with a girlfriend. Away from his support system, his disorder intensified. After two years in Florida, his brother called with bad news: his father was dying.
"I didn't know much about alcoholism at the time, but we knew it was what killed him," David said. "I flew up to see him in the hospital. He was non-responsive. We pulled the plug that night. I, of course, got drunk that night."
After that, David swore off alcohol. That was the first time of many. A decades-long battle followed. A crumbling relationship, easy access to prescriptions at work, and endless reasons to party compelled David to relapse again and again, each time worse than the last.
"I always got sober for someone else," he said. "That was my problem."
After four DUIs, unsuccessful short-term treatment programs, and three alcohol-related visits to the hospital, David had hit rock bottom. On his way home from the final hospital visit, he visited a liquor store. A friend from his recovery network came over.
"I'm tired of watching you kill yourself," she said. "I'm taking you to The Healing Place or you'll never see me again."
David had his last drink on August 4, 2016. He entered The Healing Place program on August 5, 2016. On the way there, his friend asked him, "Are you nervous? Scared?"
"No, I'm ready," David replied. "This is the first time I really want to do this for me."
At The Healing Place, David was able to "get away from the pressures of life" and focus on his substance use disorder.
"All of your security needs are met: food, housing, jobs, community," he said. "So, I could focus on the difficult work ahead of me."
David progressed through the phases of The Healing Place program quickly. As his time in the program ended, David accepted an opportunity to enter the CARITAS Works program. In the CARITAS Works classroom, he found himself helping other students learn computer skill and more. David then became a become a Peer Mentor in The Healing Place. As a Peer Mentor, David helped other men like him who were working their way through the program, addressing their past trauma, and making plans for the future.
"What I discovered was that I really love helping people and by helping them, I was helping myself," he said. "I wouldn't have known that if it weren't for CARITAS."
While a Peer Mentor, David pursued and earned his certification as a Peer Recovery Specialist. After graduating from Works, David became an AmeriCorps service member and joined the CARITAS Works staff. David has used the AmeriCorps tuition reimbursement program to finish his Bachelor's degree. His final day on the CARITAS team is August 4, 2018, two years after he had his last drink.  David will graduate from Shenandoah University with a Bachelor's Degree in December. He only has two classes left.
David says he's not sure what he'll pursue after he completes his degree. What he does know, is that he'll keep giving back.