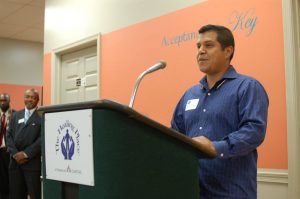 David likes to work with his hands. He always has. When he was in high school, he dreamed of going to art school. His parents set a good example by working hard and long hours to support his family.
But, David's parents worked so hard that they often weren't home at night. David was able to spend his nights out with friends. He also acted out at school, often leading to poor performance. He experimented with drugs and alcohol. As a young adolescent with ADHD, David's ego grew and his grades dropped in every class except for art.
When he realized his dreams of going to college weren't going to become a reality, he decided to join the Marine Corps. He thought that would help him find happiness and manage his ADHD. He married and had two kids.
When David returned home to his new family after serving in the Marine Corps, he discovered he wasn't happy at all. Addiction took hold of him.
"My escape was drinking," David said.
David filed for divorce and obtained custody of his children. He moved in with his parents to save money. David began attending classes to earn his Business Administration degree. Things started to look up when he and his dad opened a family upholstery business. He was able to work with his hands reupholstering antique furniture and even car interiors.
His addiction began to cause him to show up late and argue frequently with his family.
"I was stuck in a cycle of self loathing and self delusion," David said.
When his father finally kicked him out, David turned to friends for help. One of them shared his story about The Healing Place. David saw the program as an easy way to find housing. David was always looking for the easy way out. That was, until he began The Healing Place's residential recovery  program.
"I quickly realized I loved the program," David said. "I learned so much about my bad habits and behaviors. I picked up tools that I needed to get rid of those bad behaviors."
David thought he may only stay at The Healing Place for a few months. He stayed for much longer–a year and one month to be exact.  David also completed the CARITAS Works program and volunteered at the Furniture Bank putting his skills to use. He reupholstered furniture for clients and enjoyed seeing the items go to families in need. When the furniture wasn't a good fit for clients, it was sold in Gathered Goods Marketplace to raise funds for CARITAS's program.
When he commenced from Works, he got a job at a hotel. While working, David was admitted to RVA Works, a program of the Richmond Economic Development Authority. David developed his business plan for his own upholstery company. RVA Works connected him with investors and David officially launched his new business River City Upholstery earlier this year.
"It's a really satisfying business for me," David said. "Especially when someone brings in their grandmother's chair and I can preserve memories and legacies."
Service is a major pillar of The Healing Place program. Like all men who complete the program, David has carried a service-based mind set with him into this new chapter in his life. David is now in the process of starting an apprenticeship program. He'll  teach  his trade to men from The Healing Place, high school students struggling with ADHD, immigrants, inmates, and people with disabilities. We look forward to hearing more about these individual success stories thanks to David!
Another way David is giving back? He'll offer you a 20% discount for his upholstery services! Simply share a receipt from a donation of either goods or money you've given  to CARITAS or The Healing Place.