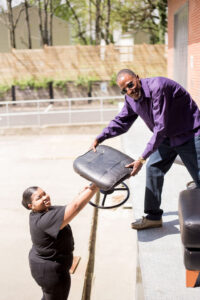 The CARITAS Furniture Bank recycled 248,007 lbs of furniture during 2021 and served nearly 653 families in the Richmond area with essential household items. As we kick off 2022, CARITAS finds its Furniture Bank shelves bare of our most essential items: sofas, loveseats, and upholstered chairs. We need your help we work to fulfill urgent requests from local organizations including the International Rescue Committee, Virginia Supportive Housing, McGuire VA, St. Joseph's Villa, and the Richmond City Health District.
January is also Get Organized Month, which serves as a great reason to support the CARITAS Furniture Bank during the start of your year. We hope community members like you will consider donating items to CARITAS as you clean, organize, and remove items you are no longer able to use. When you donate furniture and other essential household items, we will put them to use right in your own community, possibly even within a week of your donation!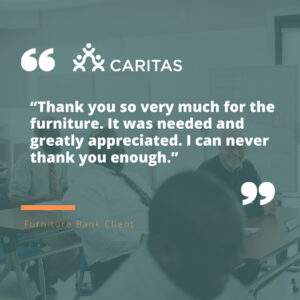 Who Does the Furniture Bank Help?
Men, women, and families who "shop" at the Furniture Bank comprise the more than 23.2% of our neighbors in the Richmond area who live at or below the poverty level. Even more troubling, 1 in 3 children are economically disadvantaged in the Richmond region, according to Voices for Virginia's Children. Both of these numbers are some of the most troubling in the state–the poverty rate across Virginia is 9.2%.
Many people living in poverty include women escaping domestic violence, individuals and families who have been homeless, elderly persons on limited incomes, people with mental and physical disabilities, refugees, youth and adults recovering from substance abuse, victims of natural disasters, and the working poor. When each person or family is ready for their new home, there are many factors they have to consider: rent, health care, schooling for children, employment.  That means they often don't have the time or resources to invest in essential household items such as mattresses, bedding, kitchen tables, kitchen utensils, dressers, and more. These items not only help families function successfully, but they provide a sense of dignity and self-worth. These are vital when families or individuals are overcoming crises and working toward self-sufficiency.
What Happens to My Furniture Donations?
CARITAS fills our warehouse with these items and creates a "showroom." Here, case managers from partner agencies like those listed above and their clients "shop" for their new home with our volunteers. Case managers only refer clients who have met a set of criteria that demonstrates their needs. The amount of items the client receives depends on the size of the household and the availability of items at the Furniture Bank. We also offer curbside and in-home delivery for clients for an additional fee.
Items that are not a fit for our clients are professionally recycled or sold in our quarterly furniture sales that are open to the community.
How to Donate Furniture
CARITAS does offer pickup appointments, but we are scheduled for many pickups into February. Anyone who can bring items to our warehouse at 2220 Stockton Street M-F 11 a.m. – 3 p.m. this month would really be helping the agency out. Call (804) 358-0964 to ask questions about the items you would like to donate.
More helpful information about donating furniture can be found here.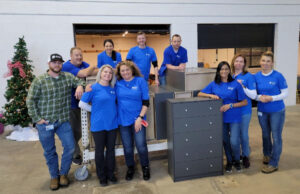 Another Way to Help: Build Furniture
Is your company, neighborhood, or church looking for a group volunteer activity? Come build furniture for the Furniture Bank! We need volunteers to construct tables or dressers to be given to shoppers. Volunteer groups purchase the supplies for these items and assemble them in our warehouse or at an offsite location. Big thanks to Dominion for sending 2 groups of volunteers to build dressers for us this winter! If you are interested in participating in a furniture build, please email volunteer@caritasva.org.
You can also donate financially to help us fulfill urgent needs in our community. Donate here.