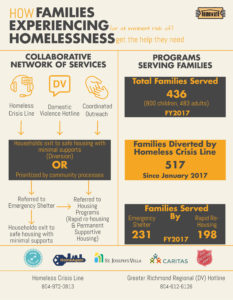 The way we provide shelter and related services in Richmond is evolving. Leaders from agencies including CARITAS, Homeward,  Housing Families First, HomeAgain and the Salvation Army are working toward the coordinated launch of several new service delivery models. Each of the agencies has intimate and long-term experience working with Richmond's homeless population. As the needs of the community transform and new data emerges, there are five new strategies that will begin to take shape in the community:
The Homeless Crisis Line (804-972-0813) will expand to include a total of 5 diversion specialists.
This is important because The Homeless Crisis Line is the first interaction a person experiencing homelessness has with the coordinated network of homeless assistance providers. The goal of diversion is to help people avoid experiencing homelessness in the first place.  Diversion specialists first use mediation and diversion techniques to help households maintain safe housing or identify alternatives to emergency shelter. If that is not successful, they will help connect men, women and families to one of the region's shelters or housing interventions, based on capacity. Adding new staff members with various specialties will ensure callers get the help they need. Based on current data, nearly 900 people have already been diverted from emergency shelter during the first two quarters of 2018.
More coordination among outreach workers led by Daily Planet Health Services are finding people who are experiencing homeless or unsheltered.
Someone is considered unsheltered when they are sleeping on the streets, in an encampment, or in a place not meant for human habitation like a car or abandoned building. Outreach workers have begun to meet these individuals where they are to connect them to resources more efficiently. Diversion is a proven best practice in homeless services that empowers those at risk to maximize resources available to them and identify opportunities to solve their housing crisis.
CARITAS, one of the largest shelters in the region, has begun to shift its shelter service delivery model.
Beginning March 2018, CARITAS has transitioned its mobile men's shelter with 24/7 access to a permanent location at 700 Dinwiddie Avenue, where its recovery program for men is also located. By March 2019, CARITAS will no longer provide shelter to families. Instead, Housing Families First, Home Again and the Salvation Army are working to expand their efforts to serve families experiencing homelessness.  Until 2020, CARITAS will continue to provide shelter to women through its current mobile shelter option in partnership with area congregations. CARITAS will focus its efforts on providing shelter and recovery services to single men and women based on the organization's success and knowledge of this population.
CARITAS will open the CARITAS Center in 2020.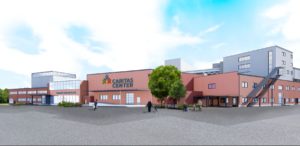 The CARITAS Center will bring all the solutions for breaking the cycles of homelessness and substance use under one roof. The project is set to open in the Jefferson Davis corridor where prostitution and substance use have long been contributing factors to homelessness in the region. The Center will become the permanent shelter location for women with 40 beds and 24/7 access. It will also house The Healing Place for Women, a newly launched program that will have 120 beds and sober living apartments. In addition, the 150,000 square-foot facility will include the CARITAS Furniture Bank, the CARITAS Works workforce development program, administrative offices and more.
Homeward has established a fund to assist shelters to help families experiencing homelessness to move more quickly from shelter to safe, stable housing.
The New Lease on Life Housing Fund was created in order to address the shortage of shelter beds in the region and the minimal financial barriers preventing some individuals and families from securing housing. Agencies have been able to access these funds when a client meets certain criteria. Still in its pilot phase, the New Lease on Life funds have allowed agencies to explore new, creative approaches to achieve the greatest, long-term impact. People can donate to Homeward and designate their funding for Shelter Supports here.
How can the community Help?
Refer someone in need of shelter to the Homeless Crisis Line (804-972-0813)

Submit an

outreach form

if you see someone sleeping outdoors.

Donate financially, donate items, and volunteer at agencies providing shelter. Click here.