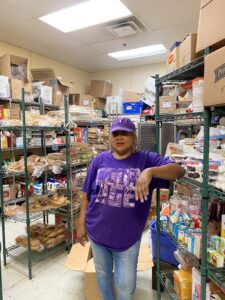 Every day at CARITAS, we can serve up to 800 meals to our program participants. Each bite taken is made possible through unique partnerships, inspiring team members, dedicated volunteers, and generous donors. 
"It's about providing people with the basic necessities so they can focus on finding a home, interviewing for a job, and recovering from addiction," says Senior Director of Food Service and Facilities Paul Start. "Of course, it's much more than that, too. It's about nourishing their spirits as well as their bodies. It's about dignity." 
Before salads are dressed, sandwiches are cut, and pastas are plated, many people help ensure men and women have a nourishing breakfast, lunch, and dinner. The very first person to focus on food at CARITAS was Jackie Wilson, lovingly known as "Miss Jackie."
Wilson has been working in The Healing Place kitchen since before it was even built. Her catering experience led her serendipitously to an interview with the founding executive director. Wilson says she accepted right away. She felt called to the work without knowing what lay ahead. For the past 16 years, she's touched thousands of lives doing much more than cooking meals. 
"It has changed the course of my life," she says. "It's not just about drugs and alcohol in this program. It's behavior and accountability. It's about the 12 steps, which can be applied to anyone's life. Without having my own experience with substance use, I still naturally follow and carry the message of the 12 steps."
Wilson mentors participants as they work in the kitchen—a vital element of the recovery program model. Everyone has a job in the building while in the program, including in the kitchen with Jackie at some point. Every day, three participants are cooking, dishwashing, or supervising with Jackie in the kitchen. They rotate in and out during their 6-12 month journey in the program. This not only teaches participants valuable professional skills, says Jackie, but "they learn to work with a variety of personalities and learn how to work through character flaws in the stressful kitchen environment."
The food that fuels this important work is possible through valuable partnerships with agencies like Feed More. 
"Our mission is to provide tools and support to people experiencing homelessness and addiction," says CARITAS President and CEO Karen Stanley. "Feed More's mission is to provide food to people in crisis. Strategic alliances with organizations like Feed More allow us to leverage their expertise so we can focus on what we are good at. Together, we can help more people, more effectively."
Jackie and the kitchen team visit Feed More nearly twice a week to stock up on food that fuels daily menus at CARITAS. She's nurtured this relationship for most of her 16 years with CARITAS. Today, Feed More has deepened its support of CARITAS in an even greater way. 
"As a CARITAS donor myself, I deeply appreciate the crucial work that they do to provide wrap-around support for our neighbors in need," says Feed More President and CEO Doug Pick. "Supporting their work helps Feed More continue to nourish our communities and empower lives."
In 2020, Feed More awarded grants to CARITAS to purchase a new six-burner oven, a refrigerator, and a refrigerated van. 
"Through Feed More, Wilson has developed relationships with Target, Walmart, Costco, and other retailers to ensure we are getting products that add variety to our menus," says Start. "With the funds to buy a refrigerated van we are able to build capacity more easily and safely.  We have added new programs with even more mouths to feed now."   
The CARITAS team lovingly named the van Sugar Lump after a term of endearment Wilson uses with people she cares about, which is just about everyone. She blushes at the mention, but it's fitting for the all-white rectangle vehicle. 
"I have become like a grandma or an auntie to all of these guys," Wilson says. "My favorite part is to see them grow, to see the pride, to see their shoulders are up." 
Feed More and grocery stores are joined by other individuals, organizations, and congregations to ensure everyone here is nourished. CARITAS has weekly meal opportunities volunteers can sign up to host. Interested volunteers can click here. These gifts of food and support allow CARITAS to focus funds and staff time on the work at hand: helping people move from crisis to stability. 
Learn more about donating meals to CARITAS.
Sign up to Donate Dinner for The Healing Place for Men.