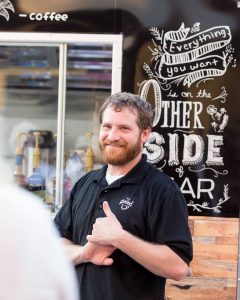 John first joined the CARITAS family in 2010 when he entered The Healing Place (THP) addiction recovery program.  Before coming to THP, John had struggled with alcoholism starting as early as his teenage years. His addiction created many roadblocks and frustrating false starts throughout his young adult life. He had participated in other treatment programs before coming to THP and was not successful. When he found THP, John found a support system he could count on to help lay the path for long-term recovery.
"It was somewhere I could go without a dime to my name and build skills, build my character, get myself back on track, and then reenter the 'real world' again," John said. "I don't take anything for granted now."
When John completed the program, he applied to the AmeriCorps State program to served with the CARITAS Furniture Bank. John helped pick up donated furniture around the area and helped clients move into their new homes. During this time, John said he was able to learn how to manage his money again and restore his job skills. He was also inspired by his service.
"It was cool to pick up a couch at a really nice house, take it back to the Furniture Bank, and then deliver it into someone's new home," John said. "I went through tragedy myself and came through the other end and could help someone else who needed it."
John gained full-time employment after his AmeriCorps service with CARITAS and has continued to grow his professional skills as well as his ambition. John was accepted into the UnBoundRVA program, which invests in talented entrepreneurs from low-income communities in the area.  Through the program, John received support for his new business, which will open this fall. His coffee cart will be called Ground Up. He has worked with a local advertising company to create his logo, singed letters of intent to rent his coffee shop location, worked with a lawyer to incorporate his business, and is now lining up vendors to fill his shelves and coffee mugs.
We could not be more proud of John and all he has and will accomplish. We are grateful to provide hope to men and help them move from the ground up!
We look forward to updating you on the progress of Ground Up and how you can support it.