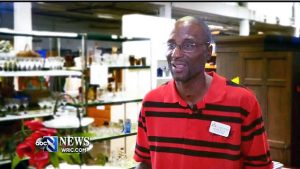 Michael is our energetic and creative procurement manager at the Furniture Bank. He manages the pick-up and donation services that keep the Furniture Bank full of furniture and other household items. These items find renewed life in the homes of families and individuals referred to CARITAS by more than 80 local human service agencies and organizations. Furniture Bank clients include families and individuals who have experienced homelessness, women escaping domestic violence, elderly persons on limited incomes, people with mental and physical disabilities, refugee families from all over the world, youth and adults recovering from substance abuse, and victims of natural disasters.
Michael has his own story of recovery and renewal.  Michael is an alumnus of The Healing Place (THP), CARITAS' residential recovery program. Before entering THP, Michael describes a life of hopelessness and defeat. Michael was recently featured on Channel 8 news about his journey to recovery and hope: http://wric.com/2015/10/01/new-chapter-begins-for-richmonds-caritas/.
After Michael completed THP program, he became an AmeriCorps member along with his brother Huey and served in the CARITAS Furniture Bank.  Their heart for service and spirit of giving back was quickly identified and they were both hired as CARITAS staff members in September 2012.
As procurement manager, Michael has not only helped sustain and grow the inventory of the Furniture Bank, but he has also helped grow the Gathered Goods Marketplace. The furniture that is not considered "essential" for clients served by the Furniture Bank are priced and sold in our Gathered Goods Marketplace, which recently held its Grand Reopening! Here, CARITAS raises valuable funds to support all four of its programs. Developing healthy enterprise initiatives like the Marketplace helps CARITAS strengthen its funding stream and programmatic resources.  
Michael takes pride in his work to increase the capacity of the Furniture Bank so that it can better serve the community. He also takes pride in his role as a mentor to other men who are learning to live life in recovery.
Michael routinely promotes AmeriCorps through community involvement and the THP network. As part of our AmeriCorps program design, we routinely recruit from THP and offer opportunities for men with employment barriers to gain job experience, independence and the confidence they need to start rebuilding their lives. Michael encourages those men walking behind him to continue their service by joining AmeriCorps.  Since 2012, twenty men recovering from substance abuse have joined the CARITAS AmeriCorps program.
We are grateful to have men like Michael on our team who lead by example and with passion. Thank you, Michael!