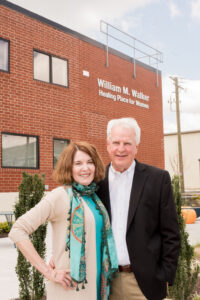 CARITAS applies 30 years of experience and expertise to develop and evolve programs that fill vital gaps in our community. With effective programming, impactful volunteering, and efficient partnerships, we make every dollar go further. It takes faith and generosity from donors like Dan and Brenda Walker. Their gift helped make The William M. Walker Healing Place for Women a reality.  
"I was drawn to help because I was familiar with the issues of both alcohol and drug addiction, as I have a family history of both.  I am sympathetic to those who have struggled with the disease and want to help those that need help. I was invited to join the board of The Healing Place in January 2008. When The Healing Place and CARITAS merged in 2012, I joined the finance committee. I finished out my board tenure a year later. I have remained a financial supporter of CARITAS ever since along with my wife Brenda."
After her first tour of the Center, Brenda said, "It was clear that every aspect of design was created with attention to detail, coordinated with a vast variety of needs and considerations in mind, and tailored to the needs of the residents, staff and volunteers… We are grateful to be a part of this transformative project which coordinated so many service providers, community resources, staff and volunteers in serving residents on their healing journey." 
Together, Dan and Brenda believe in the power of CARITAS to impact the community in many positive ways. 
"CARITAS fulfills a very important need in our community in many respects," says Dan. "I appreciate that the primary focus of the organization is to help people get back on their feet and lead productive lives"
The William M. Walker Healing Place for Women is named after Dan's father.