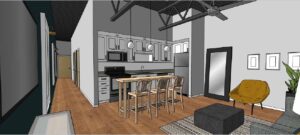 Construction is almost complete at the CARITAS Center!  We need your help turning our 47 apartments into homes. We have walls, tubs, fixtures and furniture, but there's a lot more that we need to turn these into homes. Help us outfit each apartment with essential  household items.
Many faith communities, companies, families and individuals have adopted apartments and are hosting housewarming showers for them! We are so grateful for your generous and collective support. To round out the apartments and ensure they are ready to move in, you can join the effort! Please visit this registry link to purchase one or several items for the apartments. 
Together, we can touch lives even while we're apart! 
Got Questions?
Please contact Tiffany Terry at tterry@caritasva.org or 804-343-5008 x 424.
Watch our latest footage of the CARITAS Center construction progress: