CARITAS is referred to as a "low-barrier shelter." This means that we welcome men and women into our emergency shelter that often cannot find help anywhere else. Our guests are in the midst of crises that may include do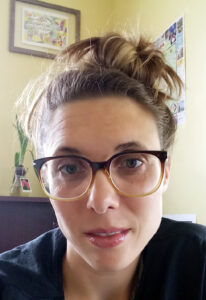 mestic violence, substance use, physical or mental health issues, and other traumatic experiences. Many times, they are confronted by a combination of these challenges. Working with people facing these kinds of odds is demanding and arduous.  Amanda Stephan has chosen to work within this challenging environment. She is driven by the opportunity to create change. 
"I try to see myself as a positive change agent," says Amanda. "My goal is to assist our participants in assessing their needs and connecting them to resources, including the ultimate resource of stable housing."
Amanda says she was drawn to the field as she began her own path toward sobriety.

"I had been seeking a career change that mirrored the positive experiences that I felt working with individuals seeking recovery."
The Virginia Beach native earned a Master's of Art Degree at Old Dominion University and then pursued a Master's of Social Work at Virginia Commonwealth University. During her internship at VCU, Amanda's was placed at CARITAS. As the internship came to a close, she accepted an official role on our shelter team.
"There are many misconceptions about the guests who stay with us in the CARITAS Emergency Shelter," Amanda says. "An increasing number of our clients are homeless because they are physically unable to work due to age and medical vulnerability," she explains. "Many rely on Supplemental Security or Disability Income, which is not sufficient enough to afford housing."  
"High rental rates in this area make it very difficult for individuals to be housed," she says. "Landlords expect renters to earn 3-4 times the rent, and most people don't have earnings that reflect that."
To help participants find housing, Amanda and the shelter team offer a variety of case management services. This includes replacing identification documents (IDs, birth certificates, etc.) so that a client can obtain employment, mental health services, stable housing, and more.
"Perhaps most importantly, we strive to help our clients unearth motivation for change, which frequently has been buried in the rubble of exhaustion and hopelessness," Amanda says. 
During the past year, the presence of COVID-19 has impacted our shelter program in many ways, Amanda says.  
"Many of our clients are already struggling with chronic health issues, so the threat of dealing with COVID-19 was very frightening," she says.  "Our staff worked hard to create a safe and sanitary environment to protect the people that we serve."
Despite this challenge, the shelter team continues to help guests stabilize amidst a crisis and save money to put toward their housing goals, she says. Pandemic or not, the important thing is that our Richmond neighbors experiencing homelessness find our services. 
"I encourage people in the community to familiarize themselves with the Homeless Crisis Line," Amanda says. "The HCL is a doorway to hope and everyone in the community can join us to help guide people to that doorway."
Learn more about homeless resources like the Homeless Crisis Line.