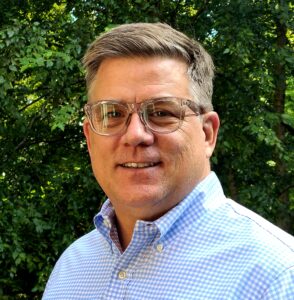 Each day is different for Paul Start, Senior Director of Food Service and Facilities. He could be solving a problem in our Recovery Residences, working with the Furniture Bank warehouse staff, reviewing menus in our kitchens, or responding to a flood alert in our parking lot. 
Paul joined the CARITAS team in 2020 in preparation for the CARITAS Center to open and welcome volunteers, participants, staff, and community partners — amid a pandemic no less. Now that our doors are open, he's focused on refining many processes and creating new ways for our team to accomplish our mission every single day. 
"It's been my goal to bring some efficiencies and create new systems to help CARITAS operate at its best," he says. "The goal is to make sure our team is best prepared for the most important work: helping people." 
He is originally from Salt Lake City, Utah. He and his wife moved to Charlotte in 2003 for career opportunities. They have three children — one son and two daughters. He worked in restaurant and hospitality management for over 30 years. As a father and person in recovery, Paul feels as though this job has been waiting for him for a long time. 
"It was 2012 when I decided I had had enough alcohol," Paul says. "I used alcohol to shut down at the end of my day and to deal with anxiety. I was not happy with the person I saw in the mirror each morning, I knew I had to change."  
Paul left his hospitality career and found time to reflect, attend therapy, and begin his road to long-term sobriety. While working as a hospitality consultant Paul found opportunities to work with nonprofits that had social enterprises. This led him to Hope Haven in Charlotte where he served as Vice President of Food Services for three years. 
"Working at Hope Haven allowed me to be around foodservice while participating in the journey of my own recovery and others," he says. 
His wife accepted a role in Richmond in 2013. Paul relocated to Richmond in 2018 after their children were off to college.  This is when CARITAS was introduced into his life. 
"I was volunteering with Miss Jackie in the kitchen, slicing, and dicing, at first," he says. "Soon, I was realizing that I could yet again, have the best job in the world… Breaking bread is something hundreds of people do here every day at CARITAS. That action is so grounding and connecting."

When he accepted the role to run our facilities and food programs, Paul reflected on his own recovery journey.
"If I hadn't decided to get sober, I wouldn't have found my way to CARITAS," he says. "I also wouldn't be the father I am." 
One of Paul's core beliefs is that there is greatness within all of us. Keeping this in mind, he approaches each day with this mindset and often reminds his children to #LiveYourGreatness. 
Thank you for living your greatness with us, Paul. We're proud to have you on our team!