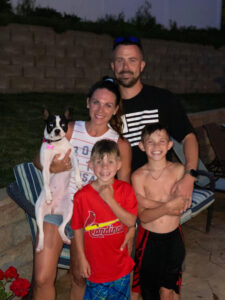 Every year on Valentine's Day, Tommy Evans celebrates something special: his sobriety, which started in 2007. That was the day he began the residential recovery program at The Healing Place 
Tommy speaks highly of his family and his upbringing. Drinking in high school led to drug experimentation in college, which led to regular heroin and crack usage during his post college career. His mother's death led to a personal rock bottom in 2006. Two DUI arrests and job loss led him to call an aunt in recovery for guidance. She introduced him to The Healing Place. 
He hadn't planned to stay long, but he noticed that the men in the building "had a glow about their spirits." He stayed. After nearly a year, Tommy had completed the core components of the program and moved into one of our transitional apartments, where he began to apply for jobs, pay rent, build savings, and practice his sobriety in a supportive community. He was able to return to the company that had originally fired him. 
"They saw the change in me. It was unmistakable." 
In the years since he left The Healing Place, Tommy has been married, has two children, adopted two dogs, and built a prosperous career at a national equipment and tool rental company. As soon as he was able, Tommy began to give back to CARITAS. 
"I have to make sure they can keep helping men like me," he says. "I am blessed, and they can be, too." 
"CARITAS provides a pathway back to life for many. Tommy's growing financial support is one of the truest and most heartfelt examples of philanthropy I can think of," says Karen Stanley, CARITAS President & CEO. 
Many of our program participants give back to their community as volunteers, mentors, donors and more. We are all connected and so glad that we are.  
Learn more about The Healing Place recovery program.