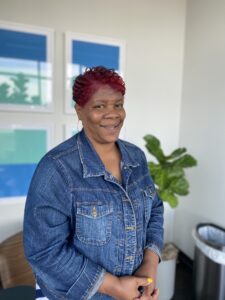 Penny Dortch is the first person every Men's Shelter guest meets when they enter our program.
"CARITAS encourages people and gives them hope," she says. "I share my story and let them know that just by coming through our door, you're further in life than you've ever been."
CARITAS has a long history with twists, turns, transformations, and trials. As one of our longest-serving employees, Penny has been there. She first arrived at CARITAS as a participant in 2003.
"I didn't start living until I came to CARITAS," she says. "I didn't know how to live until I came here."
Her history with substance use disorder began at age 11. It started with marijuana and led her to heroin. In 2003, she made the decision to get clean. She found safe shelter with CARITAS during this crucial turning point in her life.
"They taught me stability, structure, and responsibility," she says. "CARITAS was a safe haven. I was able to eat, they provided all my basic necessities, and gave me a choice in life. As long as I had somewhere safe to lay my head, I felt like I could make it and I did."
While a guest in the Emergency Shelter, Penny enrolled in a job training program with Daily Planet Health Services. As she gained work experience, she also searched for a stable home. Soon, she moved into her own apartment and CARITAS invited her to serve part-time with the shelter team.
"I encourage the clients and let them know that I've been in their shoes and I understand the obstacles they face," she says. "I understand and sympathize with them… I know what it's like not to be able to take a shower, histories of abuse, so much hurt, they're broken."
Penny continued to work a full-time job and worked with CARITAS as she saved money. By 2006, Penny joined the CARITAS team full-time as our day sight coordinator. For 11 years, Penny helped men and women connect to resources and opportunities to emerge from the fog of crisis. Penny also proudly served on the Board of Directors for Daily Planet Health Services.
"I really get to make a difference all the time," she says. "We are giving them a life while they are here… I love seeing them when they get their keys and say, 'Miss Penny I got my own place' with pride, because I know that feeling."
She recalls one family she helped: "Tanya came to our shelter. She was on disability and unable to work. We eventually helped her move into stable housing. Within four years, she was enrolled in college. She then graduated, found a great job, and she bought her first house."
There are many more men and women like Tanya who have been touched by Penny and her determination to help as many people as she can. Today, Penny serves as the Men's Shelter Team Lead, where she helps men begin their journies living with us and beginning their new lives.  We're proud to have "Miss Penny" on our team here at CARITAS! She brings so much inspiration into our days and everyone else she meets.