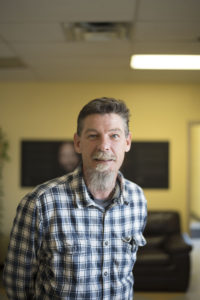 Stephen remembers the day he came to The Healing Place: October 11, 2012.
"I was smoking cigarettes outside in the parking lot," he said. "Security said I couldn't do that. Eventually I walked through the doors."
That path led him to Program Director Al Jackson's office.
"Oh, I was expecting you," Al said.
A board in the office had Stephen's name listed on it. An organization had made a call to Al after working with Stephen's mother to bring him to the area. Stephen wasn't at all convinced that Al and The Healing Place could help him. He had been in and out of recovery programs for 25 years.
Al welcomed Stephen to stay for a few days just for a shower, shelter and food. He also explained that Stephen could opt to enter the long-term recovery program. Stephen said he was interested in that. He then asked Stephen how much money he had. Stephen had a $5 bill in pocket.
"Let me have it," Al said. He then handed him the Big Book. "Let's go to work."
Stephen completed the recovery program and then became one of the first graduates from the CARITAS Worksprogram.
"I had experienced so many places like this but none that did it this way," he said.
Stephen became an AmeriCorps service member in the Peer Mentor's office of The Healing Place. He eventually accepted the role as Transition Coordinator of The Healing Place for Men. We are pleased to announce that, today, he is the new Program Manager.
"I'm a product of this model, and for that reason, I believe in this model," he said. "I am excited that this model will be available for women soon locally."
As Al retires from his role as Program Director, he will remain in close contact with CARITAS and Stephen, especially as we work to launch The Healing Place for Women in the CARITAS Center. He leaves a long legacy and lots of love. During a surprise celebration, The Healing Place filled as past residents and employees stepped up to a podium to share memories.
"Thank you for giving me my life back."
"I learned everything I needed here and from Al, to become a man."
"He is a legend in the world of recovery."
"He walks a fine line between love and discipline and he can do it with grace," said Stephen about Al.
Those were just a few sentiments shared.
Stephen is a Certified Peer Recovery Specialist. He earned the James E. Ukrop Emerging Nonprofit Leaders Scholarship to attend Emerging Nonprofit Leaders Program.  He also earned a Manny Award from My Brothers' Keeper, one of CARITAS's long-time nonprofit partners. 
"The entire CARITAS staff is not only proud, but impressed by Stephen's work with our residents and the community so far," said CEO Karen Stanley. "We are confident the entire Richmond community will benefit from his vision and leadership."
Stephen is excited for the future of The Healing Place and CARITAS. He hopes to welcome and engage more of the local recovery community to support and grow its efforts.