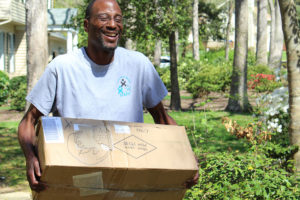 UPDATE: CARITAS has signed a lease for a new warehouse space in Richmond at 1108 Gordon Avenue. Here are a few things to note:
Please deliver donations of furniture and household items to our temporary location at 1108 Gordon Avenue.  Please call ahead before you drop them off: (804) 358-0964 Ext: 401.
Temporarily until the end of June 2018, we will ONLY accept the following items for PICK UPS: mattresses, box springs, nightstands, and dressers. Learn more about donating
here
.
Beginning July 3, we will begin serving clients at the 1108 Gordon Avenue location.
Original post below:
CARITAS Needs a New Warehouse Space for The Furniture Bank and Works Programs
CARITAS is looking for a home for our Furniture Bank and Works programs which are currently located at 1125 Commerce Road.
As historic tax credit laws swiftly changed in December 2017, the owner of the warehouse, Spy Rock Real Estate Group, had to accelerate their timeline in order to start construction within six months of the tax reform that was passed in December 2017. The developer is set to start construction in June 2018 to transform the warehouse into affordable housing.
"This leaves us in a tough spot, but we are problem solvers," said Chief Operations Officer, Karen O'Brien "We're hard at work looking for a temporary space and we could use the community's help."
A move was already in the future for CARITAS, with a 150,000 square-foot center already under demolition on the Jefferson Davis Corridor. Here, CARITAS would move its Furniture Bank, Works program, Emergency Shelter, add a new recovery program for women and 47 sober-living apartments. Known as the CARITAS Center, the building is a long-time vision for the organization and its board.
"We are anxious to provide all of the solutions to homelessness and addiction under one roof in the CARITAS Center," CEO Karen Stanley said. "Affordable housing is important for the community and we're glad to see that going in the warehouse space we leased for nearly 10 years, but now we need a home so we can keep serving our neighbors in need before the CARITAS Center opens."
The Center is set to open in late 2019 with construction starting this spring. It's not soon enough to handle the urgent need for space.
CARITAS is seeking a building with the following specifications:
40,000+ sq ft of warehouse space
3,000-4,000 sq ft of office/classroom space in proximity or on-site
Walking distance to The Healing Place at 700 Dinwiddie Avenue
2 or more Loading docks
CARITAS is also looking for 52-foot trailers to help with the move and for temporary storage. When the time comes to make the move, CARITAS will call on the community again to ensure the transition is efficient and smooth.
If anyone has a lead on a space, please contact Chief Operating Officer Karen O'Brien at (804) 887-1590.