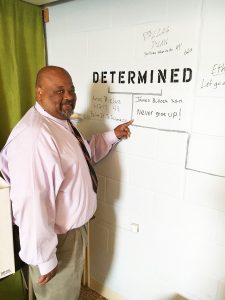 "I want to be a prep cook," James Bullock said, a graduate of CARITAS Works Class 53. "I expect to be working soon —it'll be my first job in many years."
His favorite things to make include lasagna and spaghetti. Until now, James hadn't considered pursuing a career as a cook. For 40 years of his life, James had worked on the streets, selling and using illegal drugs.
"I got introduced to getting high at 14 years old," he said. "My family was poor, so I start selling these pills, start selling marijuana, then cocaine. Then I used it."
Thanks to a new partnership, James has hope and inspiration for his future.
"At first I was lost," he said. "Now I know what I want to do, what I want to be."
CARITAS Works has partnered with the Richmond City Justice Center REAL Program to help incarcerated men and women reenter the workforce.
The REAL program focuses on the reasons behind the individual's behavior and addictions, according to Dr. Sarah Scarborough, the Internal Program Director of the Richmond City Justice Center (RCJC). She's played an important role bringing the REAL Program to life and connecting graduates of the REAL Program like James to the CARITAS Works program.
"I hadn't completed anything in my whole life until this program," James said. "No matter how bad things get I will not go back to my old ways. I'm better than that."
Now that James has completed the REAL program and graduated CARITAS Works, he hopes to mentor young at-risk boys to pursue better lifestyles.
The First Step: RCJC's REAL Program
REAL stands for "Recovering from Everyday Addictive Lifestyle." Residents of RCJC like James participate in the self-paced course, which takes 45 days to complete.
"REAL teaches you how to be a man, how to stand up, and that you don't need alcohol, drugs, none of that," James said.
The REAL program brings together multiple resources in the RCJC including life skills, spirituality, general education, and college courses by VCU, Virginia Union University, and University of Richmond.
James said that he also had the opportunity to learn how to manage his anger, learned to read, write, and recognized triggers for his addictions.
Next Step: CARITAS Works teaches job skills
After completing the REAL Program requirements, Dr. Scarborough connected James with CARITAS Works. At first, James didn't expect much from Works.
"Works teaches you about yourself, how to fill out an application correctly, and fill out a resume," James said. "I never had a resume."
James excelled during the mock interview phase of the Works program. His classmates also voted him for Best Personal Statement Award.
"This is a guy who couldn't read and write 19 months ago," James said.
James told a bit of his story during his commencement speech from CARITAS Works. Watch the REAL Life Facebook page.
A Powerful Partnership
"If they go through Works, they're that much more prepared [to reenter the community]," Dr. Scarborough said.
"The REAL Program and CARITAS changed my whole life, I want to succeed now," James said, "I'm glad Dr. Scarborough saw something in me that I didn't see in myself."
CARITAS hopes to continue this partnership with the REAL Program to empower community members to overcome their circumstances and forge pathways to lasting success.
Learn more about CARITAS Works.