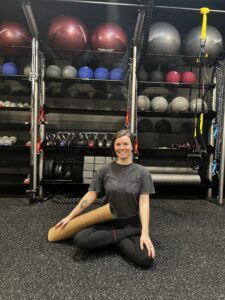 In the heart of the CARITAS Center is the Stacey Dendy Fitness Center. Here, women in The Healing Place program can come whenever they'd like to infuse physical fitness into their recovery journey.  Thanks to generous funding from family and friends of Stacey Dendy, CARITAS is also able to welcome talented instructors from the community to lead classes.
"We've long seen the men in The Healing Place deepen their recovery experience through physical fitness," says President and CEO Karen Stanley. "I personally know it improves my own life and we're so glad this is available to the women we are now serving."
The fitness center is outfitted with a variety of high-quality equipment for participants to use any time of day and during regular fitness classes led by instructors like Corey Lorenz. She brings her own personal history and passions together to be a part of our participants' healing on the inside and out. Corey's own recovery journey began in March 2018 when she made the choice to become sober.
"I was suicidal, I hit rock bottom, and my life was unmanageable," she says, describing a similar story as many participants in both the men's and women's recovery programs. Corey found hope and help through the local Alcoholics Anonymous community, which is strongly connected to CARITAS. As she moved forward in her recovery journey, a friend invited her to work at her yoga studio.
"It offered this safe place for me to connect with myself in a whole new way," she says. "I learned how to honor my body… I needed that safe space."
Fast forward two years later, says Corey, and she signed up to become a certified yoga instructor amid the pandemic.  She also became a Certified Y12SR instructor, which is a yoga practice specifically grounded in 12-step recovery principles. She also completed a trauma-informed certification program.
"It's all about respecting and honoring your needs and knowing that you have choices," she says. "Part of finding yourself in recovery is realizing you may be powerless over substances, but that doesn't mean you are powerless over your own life."
She explains that she gives participants the option to do certain poses or not. Her cues empower women to apply these simple practices off the matt in their daily lives.
"I did my training because I specifically wanted to help bring women in recovery to yoga because it's been such a big part of my recovery," she says.
Corey knew a friend in The Healing Place for Men. When she learned about the opening of the women's program, she knew she wanted to be involved. Corey leads classes every week at CARITAS. She says participants look forward to the classes all week. For some, it's their favorite hour of the week, she says.
"I am deeply inspired by everyone in here," Corey says. "The time spent here with these women who have committed themselves to such a rigorous program of personal development has made the hard moments in my own recovery journey feel worthwhile."
Learn more about Stacey Dendy.