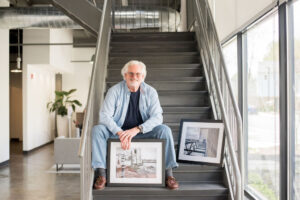 CARITAS began through the generosity and vision of volunteers who wanted to make a difference. As we've grown and evolved, we still work closely with community members. One volunteer has dedicated hundreds of hours toward this vision: Richard "Dick" Upton. 
"As I was winding down my business career, I began looking for a civic-focused initiative where my personal and professional background might help make a difference with an organization and its cause. Hopefully, a cause that was not only important but critical to our community and beyond.  
For me, the Cause was addressing the crisis of homelessness and addiction. The Organization was CARITAS… I had never experienced a non-profit executive leadership team that was as successful, entrepreneurial, and visionary as that of the CARITAS management team. I was impressed by the independence and flexibility with which the organization was able to operate due to its predominantly private-sector funding. 
With the vision of the CARITAS Center becoming reality, I became increasingly intrigued by the idea of visually documenting the entire 'recovery' process of the complex and the analogy that exists between it and the addiction recovery process itself." 
Dick has chronicled the demolition, construction, and opening of the CARITAS Center. His photographs are on display at the CARITAS Center, in this Impact Report, and on our website.  They poignantly demonstrate the theme "From Wreckage to Hope."