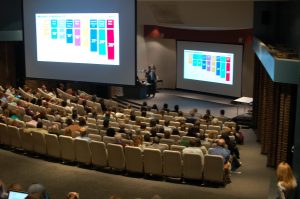 As the scope of the heroin epidemic continues to grow, CARITAS is working to forge partnerships throughout the community to provide lasting solutions to the problem. From our peer-to-peer recovery model at The Healing Place to our weekly family support groups, we are providing hope to one person at a time, one day at a time.
Many staff members attended "From Research to Rehab: A Town Hall Meeting on Substance Abuse and Young People" last Thursday and Friday hosted by VCU COBE. The two-day symposium welcomed experts from around the country to share more information about the roots of addiction and the best treatment practices.
Our very own Workforce Development Manager Vicki Mollenauer presented at the workshop and impacted the audience with her knowledge of recovery and the workforce.
Dr. Kevin McCauley took the audience through a ride through the genome. His presentation linked addiction to genetics and made a case to treat it like any other medical disease. This perspective helps remove stigma and sets the stage for effective recovery. Dr. McCauley is famous for his video series "Pleasure Unwoven."
Take a moment to understand addiction a little bit more. Watch this 2-minute video "Is Addiction Really a Disease?"
Congratulations to former CARITAS staff member Tom Bannard, who played an integral role in bringing this event to life. We were proud to be event partners along with NorthStar Community, SAMHSA, The Coleman Institute, Beacon Tree Foundation, The Chris Atwood Foundation, Cirque Lodge, Caron Treatment Centers, Family Counseling Center for Recovery, and The McShin Foundation!