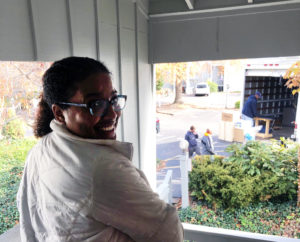 Meet Umiah. She's sitting in her new apartment in a chair from the CARITAS Furniture Bank. She just moved in last week with her two sons: a 19-month old and 12-year old.
She has a new apartment because her former living situation became violent. Case managers from YWCA and Hanover Safe Place introduced Umiah to the CARITAS Furniture Bank after helping her find a new apartment. She and her children are now safe and making plans for the holiday season together.
"CARITAS supplied my furniture so I don't have to worry about that. It makes it so much easier on me. The guys were so nice. From the warehouse, to delivery, to move-in, they helped a lot and everyone was so warm and friendly. I'm truly grateful."
YWCA and Hanover Safe Place are just two of more than one hundred local agencies who rely on the CARITAS Furniture Bank to help women and men like Umiah transition into safe, stable homes with essential items like beds, dressers, couches, cleaning supplies, kitchen utensils and more.
Your financial donations, volunteer hours, collection drives, and other support make this life-changing work possible.