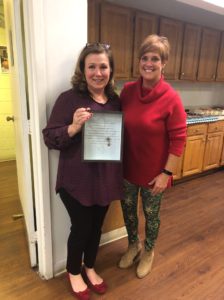 Cindy
 Paxton and her crew from Cool Spring Baptist Church have helped CARITAS solve a growing problem. Throughout our programs, we provide meals to clients we serve as they find a bridge from crisis to stability. During 2017, CARITAS found itself struggling to serve clients these crucial meals while in our care. Cindy led her congregation to provide a solution, on 24 different occasions.
"Cool Spring is so generous – and I mean the people!" Cindy said. "The church is blessed to have the kind, generous folk and their willingness to do whatever is asked."
Cool Spring volunteers served a total of 38 meals to 840 clients facing a housing crisis in 2017. Cindy and volunteers also provided fellowship to guests.
"Cindy
 has recognized that emergency meals are an ongoing need… and she has thought outside of the box," said Director of Shelter Operations Anna Hardin. "In addition to providing meals, 
Cindy
 is a constant advocate for the shelter as she understands the populations that we work with and she promotes some of the more difficult aspects as a part of giving back to those less fortunate."
Cindy began volunteering with CARITAS in 2003. After she completed a "gifts assessment test" administered by the church, she learned hospitality, compassion, and administration were her strong suits.
"The thought was if you were serving in your 'sweet spot'  it wouldn't feel like work," Cindy said. "The placement team suggested that I check out CARITAS and learn more about what Cool Spring was doing with the program.  So I did!"
Cindy served as the Shower Coordinator for the congregation's
Shelter program
for two years and eventually took over as Key Volunteer for the church. Cindy says her favorite parts about volunteering include working alongside "others who truly care and want to do for others" and "listening to our homeless friends for all the blessings of the time we have together."
"You are a key example of someone living out their faith through action," said Community Engagement Director Tiffany Terry as she presented Cindy with the Wally Stettinius Volunteer of the Year Award.
The Volunteer of the Year Award is named after Wally Stettinius. Wally led the strategic planning process to create the foundation for a successful expansion of CARITAS beyond its original mission of providing emergency shelter in the Richmond area. Today, CARITAS operates four programs that help our most vulnerable neighbors break the cycles of homelessness and addiction. As a thank you, CARITAS annually honors a group or individual that also demonstrates these attributes.
"Cindy's  dedication to our mission speaks volumes and the shelter teams are proud to have her on our side!" Anna said.
Learn more about volunteering with CARITAS here.