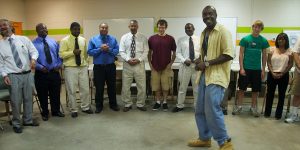 Works has a new classroom! The expanded classroom opened in Early April to welcome larger class sizes. CARITAS Works has been very successful (did you see our new video?!) and is getting the attention of organizations such as reentry programs whose clients are ready for workforce development and job placement.
Thanks to a grant from The Community Foundation, CARITAS was able to purchase folding classroom style desks, rolling chairs, an HD projector, additional laptops and classroom dividers. We have even turned one of our walls into a "screen" for the projector! The new classroom gives CARITAS Works adaptable space suitable for a class of 25, mock interviews, and AfterWorks sessions.
Thank you to everyone who helped bring this vision to life. We're ready to Work!