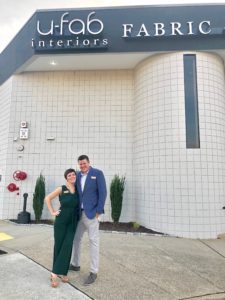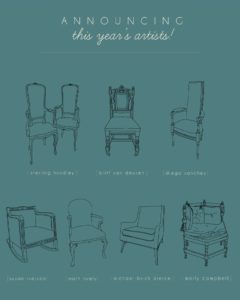 On November 8, Richmonders will step into u-fab's showroom on Broad Street after hours. They won't be shopping for their regular furniture and upholstery items. They'll be there to discover and bid on one-of-a-kind chairs created by local artists Sterling Hundley, Britt Van Deusen, Diego Sanchez, Susan Iverson, Matt Lively, Michael Birch-Pierce, and Molly Campbell. The second annual CHAIRity event will celebrate u-fab's anniversary while raising funds for CARITAS. The event kicked off last year with pieces by Katie Ukrop, Ed Trask, Paul Trible, and more. 
u-fab owners Carley and Travis Hamilton have been working with the CARITAS Furniture Bank for years.  They regularly make donations of furniture from both their clients and their showroom floor. Within days, those pieces go right into the homes of people transitioning out of crisis. The company also recruits employees from the CARITAS Works program, which helps men and women in transition prepare for employment. 
"I've always been a big believer in second chances and helping those who are vulnerable in our community," Travis says. "By working with CARITAS, we are able to help families establish a home of their own, which I feel creates a foundation for them to move both themselves and their families' lives in positive directions."
The connection to CARITAS goes even deeper. The Hamiltons have witnessed the negative impacts of substance use first-hand in their family. Carley's mother struggled with substance use most of Carley and her six siblings' lives.  While in the grips of addiction, her mother stole from Carley and struggled to stay sober and care for Carley's siblings. Carley now has guardianship of two of her younger siblings.
"I'm really excited about The Healing Place for Women," she said. "If my mom had something like that, it might have been a better outcome for me and my family."
Carley's mom overdosed nine years ago from lethal doses of alcohol and oxycodone.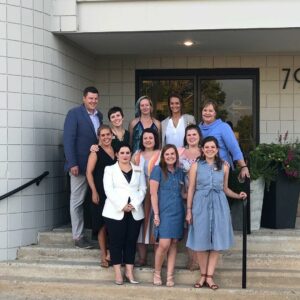 "My wife was able to overcome these challenges due to a strong support system and sheer determination but, unfortunately, this is not the case for many," Travis said. "This is why programs like CARITAS's The Healing Place can be so transformative for families and individuals."
Carley was one of the first members of her family to attend college. She met Travis at VCU. Travis brought the u-fab concept to life in 2008 with original partner Mike Dender. As it grew, Carley joined the team.
"We've built this from the ground up, and now we want to give back to a cause that means so much to us," Carley said.
The CHAIRity Auction on November 8 will be structured like "Project Runway", but for furniture design. A group of designers and influencers from the Richmond area have already chosen chairs from u-fab's archives and the CARITAS Furniture Bank. They're working with the u-fab fabrication staff to create a chair or set that will be auctioned off during the event.
"We are looking forward to a wonderful event that not only celebrates art and design but raises money that will go towards transforming lives in the Richmond area," Travis said.
All proceeds from the auction and ticket sales will go to CARITAS. Saison will provide hors d'oeuvres along with craft beer, cocktails from Belle Isle, and fine wines by other local supporters. The event will take place at u-fab interiors at 7921 West Broad Street.