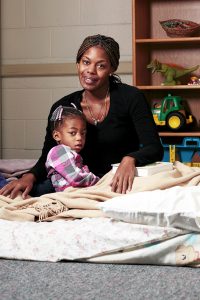 CARITAS is a leader in Greater Richmond's Continuum of Care in partnership with organizations like Homeward. We work together to define and design a system that maximizes resources and most efficiently houses those most likely to die in the streets.
CARITAS is Richmond's largest emergency shelter, sheltering up to 110 people per night, and more than 1,000 people annually. We provide more than 90% of the shelter beds available to single women and nearly half of all shelter beds in the Richmond area. The hard work of 15,000 volunteers and 150+ host congregations creates a safe and hospitable place for our most vulnerable citizens.
Upon entering CARITAS, guests find not only the necessities for survival — they find the tools for success. Through the growing web of CARITAS volunteers, staff, and agency partners, guests get the help they need to get off the street, back on their feet, and on the path to self-sufficiency.
Questions? Contact Jenn Patterson, Women's Emergency Shelter Case Manager (804) 887-1598.