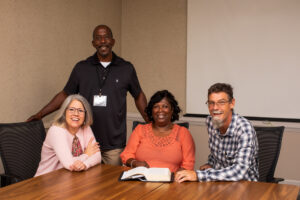 Our Mission:
CARITAS creates a safe space to heal and time to rebuild.
Our Purpose:
To provide effective, permanent solutions to individuals and families dealing with the crisis of homelessness and/or addiction in the Metro Richmond area.
Our Values:
Innovation: Mobilizes us to pursue and develop solutions that inspire, engage, and energize others while moving goals, people, processes, and our mission forward. Innovation creates and fosters an environment where resourcefulness, risk-taking, thoughtful creativity, and continual self-reflection fuse to form powerful and transforming results.
Integrity: Calls us to hold ourselves to the highest standards as a model to our clients, peers, and the community. We are committed to keeping our word in all things and never compromising our values. Everything we do is for the benefit of our CARITAS family, partners, and mission.
Passion: Inspires us with a belief in our mission and the energy, enthusiasm, and perseverance to carry it out. Passion commits us to sacrifice, create opportunities for community and connectivity, be dedicated, and strive for excellence in everything we do.
Servant Leadership: Leads us to put service before self in all our interactions with each other and with the community that we serve. It fosters shared successes and is preferable to individual gain.
Achievement: Commits us to an unwavering desire to produce extraordinary outcomes. We will clearly measure the results of our work and use them to achieve goals that support our mission and positively impact the community.
Learn How to Support Our Work
Donate, volunteer, and visit our Richmond-based nonprofit. Click here.