Where We've Been
CARITAS has been serving the Richmond community for 30 years, growing and expanding to meet unmet needs with compassion, innovation, and expertise. Based on our historical successes, we know we provide the tools for self-sufficiency and dignity to men and women in crisis.
Where We Are
We couldn't be more grateful for the thousands of volunteers, community partners, and donors who have made our work possible. Because they've invested in CARITAS, we've been able to invest in the future of Richmond, creating healthier lives for us all. We leverage dollars, donations and volunteers hours to offer programs based on best practices and evidence-based models to create the most effective change in our community. Based on three decades of success, we're applying our expertise, data, and research as we develop a vision for making a larger impact in Richmond and beyond. We are excited to extend our mission to serve more women in the CARITAS Center, starting with recovery services.
Where We're Going
Opening in 2020, The CARITAS Center will bring all the solutions for breaking the cycles of homelessness and substance use under one roof. We can't wait to watch CARITAS transform another neighborhood and positively impact thousands of lives.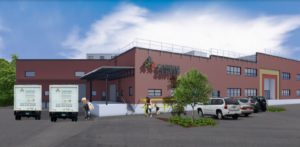 We've known for a long time that our clients would reap the benefits if CARITAS's programs were all under one roof. We've also known that women in Richmond need our services now more than ever. From the search for the right building, getting through the zoning process, and talking over data and budgets, we've made it here to introduce you to the CARITAS Center. The new CARITAS Center will include the following elements:
The Healing Place for Women – 160-bed peer-based recovery program.
CARITAS Works – Expanded state-of-the-art classroom space.
Furniture Bank – Warehouse space for Furniture Bank clients and volunteers.
47 Sober-Living Apartments – For program graduates and qualifying community members.
CARITAS Administrative Offices – All located efficiently under one roof.
Leased Office Space – For community partners
Watch our Video about the CARITAS Center
Go Deeper
In The News
"Shelter from the Storm"– Richmond Magazine. Shelter volunteer and editor Tina Eshlemen CARITAS talks about the changes to the CARITAS Shelter model in preparation of opening the new on-site shelter in South Richmond.
"Old Tobacco Site to become new CARITAS home"– Richmond Times-Dispatch. This article takes readers through a thorough tour of the new CARITAS Center, its financing, and the vision for the city's future.
"Nonprofit scores financing for new $27M Southside facility" – Richmond BizSense. CARITAS finalized its acquisition of historic and New Market Tax Credits for the CARITAS Center. Learn more about our project currently under construction.
Join Us
CARITAS continues invest in our community's future. We know we can change lives because we have changed so many during our 30-year history. Tens of thousands of volunteers and donors have joined us in our journey to break the cycles of homelessness and addiction for all. We hope you will, too.
Click here to sign up for a hard hat tour.
To learn more about the project and get involved, please contact Karen Stanley at cc@caritasva.org or (804) 887-1577