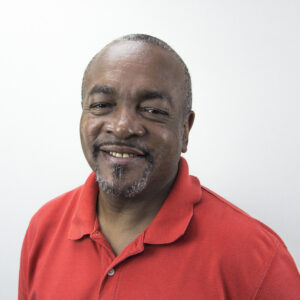 More than 10,000 men have found a road to recovery at The Healing Place. Al Jackson has been here for each and every one. He is in recovery himself. He spends every day tirelessly ensuring others discover the tools they need to heal, too. His journey started in Louisville, KY where he found help himself at The Healing Place. He eventually became Program Director of The Healing Place. He then helped open the Healing Place in Raleigh, NC (now known as Healing Transitions) and eventually came to Richmond in 2005 to bring the model to our community.
We talked with Al for a little while about the program, his work and the future of CARITAS. Keep reading…
What do you like the most about The Healing Place program model?
It's long-term. Men are guided through all 12 steps of the AA program. It's peer-driven with peer role modeling, peer accountability and connectivity. Those are the things that work. 
What's your favorite part about working here?
Being able to see men come in just like I did: broken, afraid, lonely and with no hope. Pretty much society had given up on us and then to be able to see God working through this program. It gives clients the information about the diseases they can get an understanding of why they keep using. For me, the biggest thing was that I didn't understand I had a disease, that my body did not process alcohol and drugs like normal people did.
How do we help men into a life of recovery?
The biggest thing is identifying the problem and then giving them a solution to address the problem. We use the 12-steps of AA and Recovery Dynamics curriculum.  We also have a therapeutic community. Here, their peers hold each other accountable for their inappropriate behaviors. Their peers put suggestions up on a board to get them to look at their behavior and hopefully change will come from that.
How else do we help men heal and recover?
After we guide men through 12 steps, they can join the Works program to prepare them for jobs and a professional life. We bring them in from the outside. We teach them how to build their resumes and how to budget. Then, I think, one of the greatest aspects of this program is after they've completed Works, they go back into the Specialty Shelter to complete their 12th step, which is to give back.  They help those men that are coming in behind them early in the program. If they get sick, they help clean them up. They talk to them and encourage them. They remember where they came from. 
Why is transitional living important?
When men are ready, they can stay in our transitional apartments. There, you still have support. Men are living together and continue to hold each other accountable. They have a peer-driven community that meets regularly. They also go to AA and NA meetings together. Here, they are required to save a minimum of $2,500. They have their deposit for housing, first month's rent, gas, electricity, and more. They're able to furnish their apartment from CARITAS Furniture Bank for a low cost, too. When they are petitioning for alumni status, they have to give a plan of action their peers vote on it whether they are ready to move on or not. They have to be really prepared for life in recovery.
What does being an alumni mean?
After you become an alumni, you have 24/7 access to the facility and we encourage you to come through and sponsor men coming through the program. The Alumni Association has picnics for men coming through the program, they stay connected by meeting once a month, and host civic engagement engagement activities like road clean ups. They also help support the block party we have each September during National Recovery Month. They are valuable part of the program because they demonstrate and role model to the men coming behind them. They know what it means to persevere through the difficulties.
How does the program help men's live at home?
The Fatherhood Initiative has many positive results. I  see communication begin to open up between family members after years of being out of touch. I see the families attend meetings for support (Learn more about those here).  I see them getting spiritual help and gain an understanding of the disease. The families get just as sick as the client does. I see bridges beginning to be built back.  I see them being responsible with children and loved ones. The family sees the changes in the men. It's physical and spiritual.
What excited you about The Healing Place for Women coming in 2019?
There is such a tremendous need for women in the Greater Richmond Area. The area has few programs for those who can't pay, and there are really none that are long-term here for women. I get calls all the time. I've sent hundreds of women out of state to get the help they need. Long-term recovery is needed here for women to break the generational cycles of the disease and of homelessness. It will also help women get their dignity and respect back. They can stop being used to perpetuate their drug addiction.