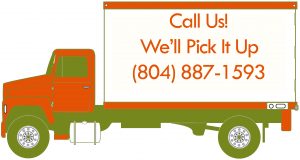 Each item of furniture, each appliance, each plate, and each blanket that you donate to the CARITAS Furniture Bank goes directly towards furnishing the new homes of our most vulnerable neighbors. These gently-used items allow families to eat together around a dining room table. They mean that a child no longer has to sleep on the floor. Because of you, lives are transformed and dignity is restored. Thank you!
Why Donate to CARITAS?
100% of essential household items go directly into the homes of clients in need.
CARITAS makes it EASY. We provide a pick-up service in your home for those hard-to-handle items like mattresses, couches and dressers.
Your donation is tax-deductible; a receipt will be provided at time of donation.
We keep your contributions in the Richmond area. Your donations will help a local neighbor in need.
How Can You Donate?
Step 1:
Donations are connected directly to families in need, so please review your items to ensure they are suitable for CARITAS.
Read a list of items we accept
Step 2:
Get your friends, family, and coworkers in on the action! Host a furniture or household goods drive. Go big by requesting a truck to be dropped off so your neighborhood or congregation can fill it. Go small by picking one item like pillows, towels, or blankets to collect with your family or office.
Step 3: 
Deliver your donations to CARITAS so we can start putting them to good use! Drop off donations of furniture and household essentials Monday through Thursday from 9 a.m. to 4 p.m. and Friday 9 a.m. to 3 p.m. at 1125 Commerce Road. Please call ahead before you drop them off: (804) 358-0964 Ext: 401.
Step 4:
Can't find the time, the truck, or the energy to bring your items to us? We'll pick it up for a small fee. Fill out our easy online form by clicking the link below and someone will return your call to schedule a pickup. Please note: we do not take items from attics or basements.
Corporate and Institutional Bulk Donations
Have lots of stuff? Your donations are vital to our ability to serve 900 households a year in Richmond and surrounding areas. Call us to learn more:  (804) 887-1593.
Cleanouts, Hauling, and Disposals
CARITAS provides training and workforce development opportunities for men and women who are re-entering the workforce and on their way to becoming productive and sustaining members of society.  As a part of these efforts, CARITAS is able to offer a variety of services including pick-ups of unwanted items, cleanouts when you're moving offices or homes, disposal of unusable items, and light moving. Call us to learn more:  (804) 887-1593.