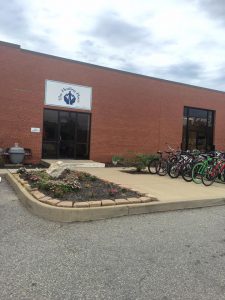 The Healing Place for Men suffering from substance use disorder, is open 24/7 365. The address is 700 Dinwiddie Avenue, Richmond, VA 23224. Please call (804) 230-1184 for help.
The Healing Place for Women will be located at 2220 Stockton Street and will be open for intakes soon. Learn more.
COVID-19 Information:
During the active pandemic, i
n conjunction with DPHS (Daily Planet Health Services)

,

The Healing Place

has developed a weekly intake plan for men.

 
Call 230-1184 for a phone screening for entry into The Healing Place.
More Program Information:
Recovery at No Cost
CARITAS is committed to providing help to anyone ready to commit to a life in recovery. The Healing Place welcomes anyone outside of our service area seeking help.  If you have questions about the program, please contact The Healing Place for Men Program Manager Stephen Vicoli (804) 230-1217 ext 106.  for more information.
How to Enter the Program
Clients must be present for an in-person eligibility screening to be considered for the program. Eligibility screenings take place between 8 a.m. and 4 p.m. Call 230-1217 and press 1 to schedule.  
Medical professionals and Department of Corrections representatives can make referrals to The Healing Place. Call 230-1217 and press 3. Note: We do not accept court ordered mandates to the program. 
Clients need to bring at least a 30-day supply of any medication they are on.
Click here to learn about our acceptable medication policy.
Learn more about how the program works here.
Family Eduction Program
The Family Education Program is a collaborative effort dedicated to providing quality education and support to families of substance users in our community. We meet Thursday at 563 Southlake Blvd., 6:30 p.m.
Visit us on Facebook to find out which topics we will cover each week! 
We are free and open to anyone with an addicted loved one. Arm yourself with the education, support and resources to cope with a loved one's substance abuse and make peace with the past and present.