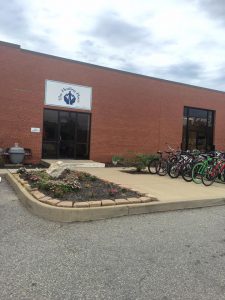 The Healing Place and its Speciality Shelter, for men suffering from Substance Use Disorder, is open 24/7 365.
The address is 700 Dinwiddie Avenue, Richmond, VA 23224. Please call (804) 230-1184 for help.
Our Service Area
Due to high demand, CARITAS has instituted a fee-based policy for clients outside of our service area. The Healing Place was created to serve Richmond and the surrounding areas as defined by our Continuum of Care. There will be a fee for anyone outside of this area. Please call Program Director Al Jackson at (804) 887-1580 for more information.
How to Enter the Program
To enter the recovery program directly, clients should be dropped off between 9 a.m. – 4 p.m. Clients need to bring at least a 30-day supply of any medication they are on.
Click here to learn about our acceptable medication policy.
We will monitor for safe withdrawal management, however, if medical assistance is needed, appropriate referrals will be made. Certain drugs (alcohol and benzodiazipines) can be fatal during the withdrawal stage and clients must be medically cleared at a hospital before they can be admitted.
Learn more about how the program works here.
Family Eduction Program
The Family Education Program is a collaborative effort dedicated to providing quality education and support to families of substance users in our community. We meet every Monday, 5:30 p.m., at 501 N. 2nd Street at the Motivate Clinic and  Thursday at 563 Southlake Blvd., 6:30 p.m.
Visit us on Facebook to find out which topics we will cover each week! 
We are free and open to anyone with an addicted loved one.Arm yourself with the education, support and resources to cope with a loved one's substance abuse and make peace with the past and present.