What is the Healing Place?
The Healing Place is a long-term peer-driven residential recovery program serving the Greater Richmond community.  Here, our neighbors suffering from substance use disorder carve pathways to sobriety, employment, and spiritual wellness. The Healing Place program includes a workforce development program, a transitional sober living community, and an active Alumni Association to support lifelong sobriety.
We offer services at no cost. Services are now available for men and women as of December 30, 2020.
The Problem
More than 150,000 Americans died from drug and alcohol-related deaths in 2017. This number is double that compared to a decade ago. We're feeling the impact here in Virginia, especially amidst an opiate epidemic. Last year, we lost 1,213 community members to opioid overdoses and 1,484 to overdoses from all drugs. 
These numbers continue to rise for a variety of reasons. The moment a person decides to seek help is a crucial juncture that could save his or her life. Services are not always available, especially if you have a limited income. When adults have access to the tools for recovery and have time for practice, they are able to secure employment, improve their health, and life to the fullest.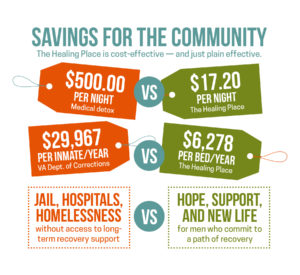 Almost

twice as many people who are unemployed struggle with addiction

than those who are full-time workers,

according to

 the National Survey on Drug Use and Health

.

Though we are currently in the midst of an opiate epidemic,

alcohol remains the number one drug of choice

for our residents and nationally

.

 

Across the country,

40% of all hospital beds in the United States

are used to treat conditions related to alcohol consumption.

    



The Solution:
The Healing Place is open 24/7/365 and offers recovery services at no cost. This long-term peer-driven residential recovery program includes a five-week workforce development program (CARITAS Works), a transitional sober living community, and an active Alumni Association.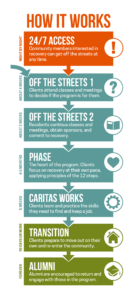 Over the last 15 years, THP has served nearly 9,500 people. A therapeutic, peer-driven community is the foundation of the 6-9 month long program. Residents lead by example and hold each other accountable as they safely practice a life in recovery.  This community stays with them after they leave. 
Data shows that it takes

4-5 years of sobriety

for the

risk of relapse to fall below the 15% mark

, the level of risk that the general population has of developing a substance use disorder over a lifetime. 

Additionally, studies show that sober living communities increase

sobriety rates to 90%, compared to 27%

for those who do not live in these communities.  
Our Success
Our programs prioritize people. We believe by helping each person as they are, we can help the community at large. We help our residents become mothers, fathers, friends,  sons, and daughters again so they can dream and build brighter futures. Here are a few ways our residents demonstrate success after their time at The Healing Place: 
Nearly

70% of our alumni 

are sober after one year of completing the program. 

Participants find jobs within one month

of completing the workforce development component of the program.

An efficient and effective program model allows us to house and provides recovery services to one person for only $17 a day, compared to $500 a day for a night in traditional medical detox. 

Staff and peers teach 

1,144 recovery classes

to those in the program annually.  

We offered

625 onsite open and closed NA/AA meetings

onsite and offsite for the community. 
Questions?
Men's recovery program inquiries can contact Justin Woods, The Healing Place for Men Program Manager at (804) 887-1580 or jwoods@caritasva.org.
Women's recovery program inquiries can contact The Healing Place for Women at (804) 418-3049.