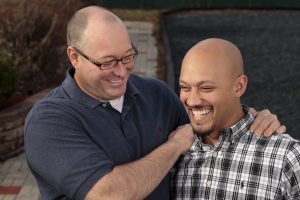 What is the Healing Place?
The Healing Place is a long-term peer-driven residential recovery program serving the Greater Richmond community.  Here, our neighbors suffering from substance use disorder carve pathways to sobriety, employment, and spiritual wellness. The Healing Place program includes a workforce development program, a transitional sober living community, and an active Alumni Association to support lifelong sobriety.
We offer services at no cost. Services are currently available for men and will be available for women by early 2020. Learn more about the CARITAS Center.
Our Success
For 13 years, THP has provided the tools and resources for sobriety, employment, and spiritual wellness for more than 8,000 men. We have been a stable and constant leader in the fight against addiction, even as it continues to change in our community and the world. Though we are currently in the midst of an opiate epidemic, alcohol remains the number one drug of choice for our residents and nationally.  We work closely with experts, community partners, and alumni. As a result, nearly 70% of our residents are sober after one year of completing the program and 90% find jobs within one month of completing the workforce development component of the program.
Transitioning out of a recovery program is especially difficult. Jobs, money, significant others, and challenging pasts are all roadblocks to long-term success. The Healing Place provides a workforce development program called CARITAS Works. The program builds self-esteem, prepares clients for interviews, provides tools for financial success, and empowers them with tools for successful long-term employment. In addition, participants are able to stay in transitional apartments. Studies show that sober living communities increase sobriety rates to 90% compared to 27% for those who do not live in these communities.  
Impact in the Community
For many people struggling with substance use disorder, the road ahead has only a few forks: recovery, incarceration, or death. It costs approximately $30,000 a year to incarcerate a person in Virginia. In comparison, the cost to send someone through The Healing Place is less than $6,500 and less than $10,000 when combined with the effective CARITAS Works program.
As participants move forward in a life of recovery, they are empowered with a connected community, workforce skills and knowledge of their disease. This helps them maintain and sustain their sobriety. The impact can be felt in a variety of ways.
A recent study reported that people living in recovery are ten times less likely to be incarcerated or visit the emergency room, which reduces the economic impact of addiction. In addition, sobriety leads to an increase in steady employment by 50%. As they get back to work, alumni of The Healing Place head to work every day, pay taxes, spend money, and give back to the community in their free time. They become fathers and sons again, begin to dream again and build a brighter future.
Get Sober
Hope and healing are available to everyone who needs it. If you are struggling with substance use, we welcome you. The Healing Place is the recovery program for those who have tried other methods and they have not worked. We provide services at no cost to people living within our service area.  
Learn more about enrolling in the program.
Questions? Contact Stephen Vicoli, The Healing Place for Men Program Manager (804) 230-1217 ext 107.