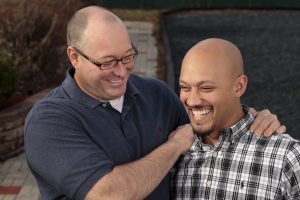 With the help of the Jenkins Foundation and several community leaders, The Healing Place model was identified in 2000 to help fill a tremendous gap in the homeless services network. Addiction recovery resources were not available to people with little to no income. The Healing Place model was chosen based on:
Tremendous sobriety outcomes (70% sobriety rate one-year after completing the program)
Long-term connectivity
Peer-to-peer recovery model
Cost effectiveness
Ability to return tax-paying citizens to society
The Healing Place provides a pathway to recovery for men struggling with drug and alcohol addiction. Our long-term, nationally recognized program is a place where hope is found and change happens. Our goal is to reach the most vulnerable members of our community, to provide a pathway to recovery, and to restore their dignity and place in society.
Accessibility
We make it easy for people to get the help that they need when they are ready. Clients can enter our overnight shelter and Sobering Up Center while still intoxicated. In addition, we are the only long-term recovery program in Virginia that provides services regardless of a client's financial situation. This means people with major addiction problems and no resources can get the help that they need instead of being on the street or incarcerated.
Connectivity
As men enter the program, they enter a life-long recovery community. The self-paced peer-led recovery model encourages accountability and ongoing support. During their time at The Healing Place, clients are able to enter the CARITAS Works job readiness and life skills program and its two-year AfterWorks program. CARITAS also has transitional housing and employment opportunities to help men transition back to full-time employment and learn to live independently and successfully.
Success
70% of the alumni (what we call our "graduates") of The Healing Place remain clean and sober for at least one year after completing the program. In other words, more than two-thirds of those who completed the program are still clean, sober, and off the streets one year following completion of the recovery program. This figure rivals some of the best treatment centers in the country.
CARITAS not only saves lives, but saves money for the community. The cost of the program is less than $20 per day per man, or $7,200 per year. This includes three meals a day, laundry services, education, and more.  Compare that against the cost to taxpayers of $45,000 a year to incarcerate a man or $50,000 for a short-term, private treatment program.
Questions? Contact Al Jackson, Program Director (804) 230-1217.