Our mission at the CARITAS Works Workforce Development Program is to provide intensive and innovative career preparation and job placement services to individuals with major barriers to employment, empowering them to overcome their circumstances and forge pathways to lasting success.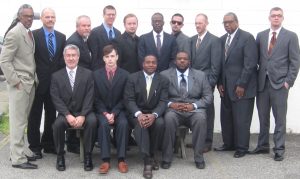 The CARITAS Works Workforce Development Program consists of three components that will ultimately guide participants to attain sustainable economic security and become productive, independent, joyful, and service-driven members of their community.
Works is a five-week, eight hour a day (160+ hours), job-readiness and skills development program. The program encompasses: character building, career development and life skills classes, including 24 hrs. of computer classes.
Job Club provides access to the computer lab, employment resources, and personal assistance with job applications and resources to support employment opportunities. Temporary employment with a small stipend through CARITAS is available while an active member of Works Job Club.
AfterWorks offers two years of job placement support and follow-up: access to the computer lab, a career development specialist, job resources, and classes to support graduate's current employment, and opportunities to help them develop their careers.
Questions? E-mail: works@caritasva.org or call: (804) 612-1752.
Looking for our Forklift Training?
CARITAS offers certification courses (6 hours) throughout the year for anyone who will operate sit-down forklifts (powered industrial trucks). Upon successful completion of the course and testing, the participant will receive both a wallet size and an 8 x 10 certificate valid in Virginia. Please learn more here.
Want to Donate Professional Clothing?
We help men and women in our program prepare for the workforce in a number of ways. One of those is ensuring they have the right wardrobe essentials. We currently accept a limited amount of men's wardrobe items. They can be delivered at 700 Dinwiddie Avenue. Please call or email before making a donation: works@caritasva.org or (804) 612-1752.