The Problem
Many unemployed Americans are ready to work. They have a rich set of diverse skills and the willingness to work hard, but finding a job is tough. They face many barriers to employment: lack of education, felony histories, gaps in employment due to incarceration, trauma histories and more. Without the appropriate tools, men and women facing these challenges are at risk of chronic unemployment.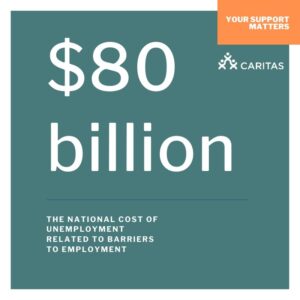 The rate of unemployment for formerly incarcerated individuals is more than

27%, higher t

han what was experienced during the Great Depression.

1 in 3 Americans

has a criminal record, often for minor crimes.

Every year,

11.4 million Americans cycle through our jail systems, where they receive fragmented and uncoordinated care. 68% of these individuals have a substance use issue.
The economic loss due to barriers to employment is approximately $80 billion.
Unemployment has negative health consequences including increased rates of depression, anxiety, low self-esteem, physical pain, high blood pressure, stroke, heart attack, heart disease, and arthritis, according to a report by the Kaiser Family Foundation

.
When a person is chronically unemployed, they become at greater risk for homelessness, crime, depression, and decline of work skills. They aren't able to spend money in our economy, provide for their families, and pay taxes. On a national scale, lack of employment leads to higher payments from state and federal governments for unemployment benefits, food assistance, and Medicaid. In February 2017, payments from state and federal governments for unemployment benefits totaled $2.96 billion.
The Solution
Innovative career preparation and job placement services is our answer to this nationwide problem. CARITAS Works provides innovative, effective, and intensive training to individuals with major barriers to employment. Alongside volunteers from businesses like Capital One, we empower each student with tools to overcome their circumstances and forge pathways to lasting success.
Our Program
The CARITAS Works workforce development program consists of three components. Each one guides participants to attain sustainable economic security and become productive, independent, joyful, and service-driven members of their community.
Works

is a

five-week, eight-hour a day (160+ hours)

, job readiness and life skills development program. The program encompasses: character building, career development, and life skills classes, including 24 hours of computer classes.

Job Club

provides

access to the computer lab, employment resources, personal assistance with job applications,

and resources to support employment opportunities. Temporary employment with a small stipend through CARITAS is available while participants are an active member of Job Club.

AfterWorks

offers

two years of job placement support

and follow-up, including access to the computer lab, a career development specialist, job resources, classes to support graduate's current employment, and opportunities to help them develop their careers.
Our Success
We have graduated more than 600 students at CARITAS Works. Each one has been through mock interview training and given appropriate attire for job interviews. They're working to open savings accounts and beginning to look for housing. They have driver's licenses and appropriate legal documentation. They have email addresses and new computer knowledge. They are full of hope and prepared for the possibilities of their dreams coming true.

The weight of the evidence suggests that workforce development produces widespread benefits for employers and society as a whole, according to an Annie E. Casey Foundation Report. As a result of programs like Works, our students and the community at large witness sustained increases in productivity and economic growth.
Within 30 days of completing the program almost all of our students have gainful employment. 

The average starting pay for our CARITAS Works graduates is $12.74, which is enough for two people to afford a two-bedroom apartment in Virginia. 
Forklift Training
CARITAS offers 6 hour certification courses throughout the year for anyone who will operate sit-down forklifts (powered industrial trucks). Upon successful completion of the course and testing, the participant will receive both a wallet size and an 8 x 10 certificate valid in Virginia. Learn more here.
Donate Professional Clothing
We help men and women in our program prepare for the workforce in a number of ways. One of those is ensuring they have the right wardrobe essentials. We currently accept a limited amount of men's wardrobe items. They can be delivered to The Healing Place at 700 Dinwiddie Avenue. Please call or email before making a donation: works@caritasva.org or (804) 612-1752.
Questions? E-mail: works@caritasva.org or call: (804) 612-1752.