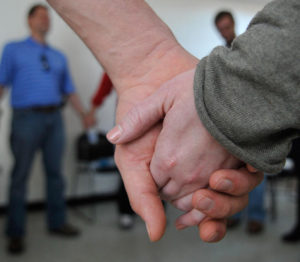 Addiction is a disease that truly impacts the whole family. Everyone affected by addiction needs support, care, and healing. CARITAS is committed to connecting you with education, support, and resources to feel more equipped to cope with a loved ones substance use as you embark on your own healing journey.
Do You Have a Loved One In Our Program?
Please join us for monthly meetings in the evening designed for friends and family with loved ones in The Healing Place residential recovery program. In these meetings, we will explain how our program works and help deepen your understanding of Substance Use Disorder. We will also share ways to best support your loved ones and how to take care of yourself.  To learn about the next session and RSVP, please contact
Anna
Murphy at
amurphy@caritasva.org
or (804) 401-8671.
Family Education Program
The Family Education Program is a collaborative effort dedicated to providing quality education and support to families of substance users in our community through regular meetings and programs. These are free and open to anyone with a loved one who may be suffering from addiction. We meet virtually every Thursday at 6:30 p.m.
Join us on Zoom: https://vcu.zoom.us/j/299427496
Or call in: 646-558-8656 | Meeting ID: 299427496
Visit us on Facebook to find out which topics we will cover each week!
Find a Support Group Near You
Tap the links below to be directed to local and virtual meetings for families and friends with loved ones struggling with substance use disorder.
Recommended Reading
Below is a list of publications that we recommend to learn how to heal and grow alongside your loved ones in recovery.
Other Resources
The 20 Minute Guide. 

This is a practical, compassionate, and effective roadmap for those who are concerned about their loved one's substance use, or want to learn ways to prevent it.
Coming Events
Visit The Healing Place -Richmond VA on Facebook for upcoming events! Click here.