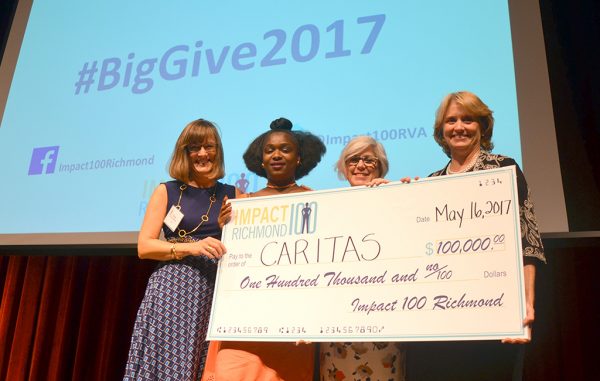 5/29/2018 'It is a huge project': CARITAS programs on the move
The CARITAS Furniture Bank has a new home! Learn more about the new space, our online auction, and volunteer needs.
4/12/2018 Getting to the Monument Ave 10k finish line is truly monumental
Watch this great interview by Lane Casadonte of CBS 6 Sports with men in The Healing Place Program as they prepare for the Monument Avenue 10k.
4/10/2018 10k training program provides positive steps for some residents of The Healing Place
We're so fortunate for our volunteer coaches who help men at The Healing Place prepare for the Monument Avenue 10k for the past seven years.
Richmond Times-Dispatch
4/3/2018 Central VA leaders celebrate National Service Recognition Day
Listen to CARITAS Volunteer Coordinator Anna Walker talk about her experience as an AmeriCorps service member and learn more about the recognition day.
NBC 12
3/7/2018 CARITAS Named Top Workplace in Richmond
CARITAS has been named as a top workplace in Richmond in the small business category. Thank you to the Richmond Times-Dispatch and Energage for conducting the survey and spreading the word!
Richmond Times-Dispatch
3/8/2018 Richmond program tackling homelessness about to become homeless
Amy Lacey visited our CARITAS Furniture Bank and Works program location to help spread the word that we need a temporary location until the CARITAS Center opens in 2019.
WRIC Channel 8
2/23/2018 CARITAS Celebrity Serve in Richmond Food News
We welcomed Richmond Magazine Food Editor Eileen Melon to our 15th annual event at Sine Irish Pub. She shared photos and a bit about her experience in this weekly feature.
Richmond Magazine
8/21/ 2017 Like Mother, Like Son
Jacob Oliver and his brothers have all found help at The Healing Place. Their mother is in recovery, too. See how addiction impacts the family and our community in this Richmond Magazine feature story.
Richmond Magazine
8/16/2017 Shelter from the Storm
CARITAS prepares to open a new on-site shelter in South Richmond. This will lead to changes in our emergency shelter model. Learn more in this story.
Richmond Magazine
6/21/2017 Impact 100 Awards CARITAS with Grant for CARITAS Center
Impact 100 Richmond, a subsidiary of The Community Foundation, donated $100,000 to both CARITAS and the Sacred Heart Center at its Big Give event.
Richmond BizSense
6/19/2017 CARITAS Planning Healing Place for Women
John Ogle of Community Idea Stations interviewed CARITAS CEO about our plans to bring much needed recovery services to women in the Richmond area.
Community Idea Stations
6/16/2017 Construction training program offers a new chance to Richmond residents
We're excited to announce our partnership with VCU and the Richmond City Sheriff's Office to offer CARITAS Works graduates paid training and job opportunities.
VCU 
5/5/2017 Top Workplaces Awards
CARITAS is honored to be named No. 4 in the Small Business Category for the Richmond Times-Dispatch and Richmond SHRM's Top Workplaces awards.
Richmond Times-Dispatch
3/30/2017 Grandmother Gets New Beds for Family
Mattress Warehouse, Professional Moving & Storage, and Channel 12 On Your Side joined forces with CARITAS to help a grandmother, her daughter, and her grandchildren at the CARITAS Furniture Bank.
NBC12
3/31/2017 VCU Students and Faculty Work With Community to Provide Screenings at Local Shelters
For years, we have partnered with VCU Health​ to provide screenings to guests served by our Shelter program.
VCU News
1/11/2017 From Jail to Recovery: Addict Gets Opportunity at The Healing Place
This public radio feature tells the story of one man who was able to find hope and recovery at The Healing Place instead of a life in prison thanks to a new partnership between Chesterfield County Sheriff's Office and CARITAS.
Radio IQ/ WVTF Public Radio
1/2/2017 CARITAS Furniture Bank Story
January is Get Organized Month! As you clean out your home, learn how your donations can help families like Diana's  transition into a life of stability.
Richmond Family Magazine
12/22/2016 Priceless gift saves and changes lives
Watch this moving story about a man who gives the gift of life. He is now friends with the man who received his organ and they plan to volunteer together at CARITAS.
WRIC Channel 8
12/21/2016 How this abandoned warehouse will save lives
See images and video of the warehouse CARITAS will transform into the new CARITAS Center. The cornerstone of the project is a new Women's Healing Place.
WTVR Channel 6
12/20/2016 Center for women recovering from addiction proposed for South Richmond
Learn more about our plans to develop the CARITAS Center, an innovative, national best-practice model of incorporating all solutions for ending homelessness under one roof.
Richmond Times-Dispatch
10/28/2016 Positively Richmond: Coffee With Purpose
CARITAS Works graduate and THP Alumnus John talks about his new business, Ground Up coffee.
WRIC Channel 8
10/27/2016  Recovery, Job Training and a Network of Support at the Healing Place
Community Idea Stations Reporter Catherine Komp gets an inside look at The Healing Place and CARITAS Works. Listen in on the stories of the men and women the program has touched.
WCVE, Community Idea Stations
10/2/2016  Karen Stanley: What it takes to heal addiction
CARITAS CEO talks about The Healing Place and the increasing demand for recovery services.
Richmond Times-Dispatch
9/23/2016 Meet Michael Gordon of CARITAS
Get ready to be moved! Read this story that starts at The Healing Place and takes one man on a journey to become the CARITAS Furniture Bank Procurement Manager.
Richmond Justice
6/22/2016 Sheriff's Office Partners With The Healing Place
The Chesterfield County Sheriff's office partners with CARITAS to provide men with alternative incarceration options at The Healing Place.
Chesterfield Observer
5/22/2016 Hold On, Pain Ends
Richmond Magazine Editor Tina Gregio visits The Healing Place and uncovers stories of hope in her weekly Sunday Story.
Richmond Magazine
4/21/2016 Richmond Man Starts New After Hitting Rock Bottom in Jail
Read and listen to this inspiring story of Jessi who overcame his addiction, reunited with his children, began a successful career and now helps other men do the same.
WTVR
3/22/2016 Hear Together: CARITAS
CEO Karen Stanley describes CARITAS programs and ways to get involved.
WNRN
12/5/15 Dominion Awards $90,000 to Assist People in Need
A long-time supporter awards grants throughout the Richmond community.
Richmond Times-Dispatch
11/24/15 Richmond Man Who Turned His Life Around is Thankful for a New Day
Aziz has a new home and new lifes thanks to many organizations, including the CARITAS Furniture Bank.
Richmond Times-Dispatch
10/1/15 A New Chapter Begins for Richmond's CARITAS
Michael's journey has led him from hopelessness to recovery
WRIC Channel 8
9/23/15 The Healing Place Needs a Helping Hand
CEO Karen Stanley writes about the financial need of CARITAS's long-term residential recovery program.
WRIC Channel 8
7/10/15 CARITAS Gathered Goods Marketplace
Learn more about this Marketplace with a Mission!
Richmond Times-Dispatch
6/23/15 CARITAS is a Richmond History Maker
A former CARITAS client is spotlighted at the Furniture Bank.
WRIR Channel 8 News
10/6/2014 History Makers honored at The Valentine
CARITAS is honored as one of five "History Makers."
Richmond Times-Dispatch
8/13/2014 Rapid rehousing fuels partnerships, less homelessness
Delegate John O'Bannon III, R-Henrico, tours CARITAS to learn more about rapid rehousing partnership.
Richmond Times Dispatch
8/08/2014 Ikea donations help The Healing Place spiff up mentor rooms
The Healing Place receives a $10K makeover from IKEA Woodbridge.
Richmond Times-Dispatch
7/29/2014 Williams: Richmond-area homeless agency appeals for shelter help
CARITAS appeals for summer shelter help
Richmond Times-Dispatch
1/12/2014 Haley Buick GMC Sunday Podcast
CARITAS Furniture Bank staff share what they do with Barry Moore of Haley Buick GMC.
Taking It to the Streets
9/14/2013 43rd Street Festival attracts art, entertainment lovers
43rd Street Festival of the Arts supports CARITAS.
Richmond Times-Dispatch
12/07/2012 Virginia This Morning: Karen O'Brien
Virginia This Morning interviews Karen O'Brien.
CBS 6 (WTVR)
6/28/2012 A LIST: CARITAS Furniture Bank's monthly indoor yard sale
CBS 6 features the CARITAS Furniture Bank's Indoor Yard Sale
CBS 6 (WTVR)
4/30/2012 Richmond's First Presbyterian Church celebrates Serve Day
CARITAS Shelter Feature about First Presbyterian
Richmond Times-Dispatch
2/15/2012 Former Ramada to be demolished; hotel items go to help needy families
The CARITAS Furniture Bank receives a major donation from Genworth
Richmond Times-Dispatch
2/23/2011 Restoring dignity one evening at a time
Clover Hill Assembly of God hosts a women's shelter week
Chesterfield Observer
2/7/2010 Radio Show (MP3)
Executive Director Karen Stanley is interviewed by Lite 98.
Lite 98
12/21/2009 Where Furniture and Art Meet
The Chair Affair puts a new twist on fundraising.
Richmond Magazine