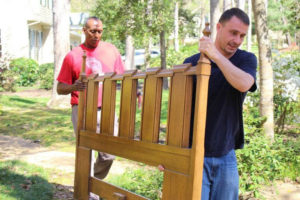 Thank you for thinking of CARITAS as you clean our your home, office, or facility. All items will be used to help families dedicate their resources to fighting the cycles of homelessness and poverty. Anything our clients cannot use is sold in through furniture sales or is carefully disposed to ensure as much as possible stays out of our landfills.
We make it easy to donate your large furniture items via our pick-up services! We pick up in the Richmond and surrounding areas Chesterfield, Henrico and Mechanicsville for a small fee of $35. This fee helps us maintain our trucks, pay for gas, and support our talented staff. After you fill out the form, you'll receive an appointment time. Our team is reliable, on-time and professional!
Read a list of items we accept
Questions? Call Furniture Bank at (804) 343-5008 ext 411. 
Fill out our pick-up request form below!
If you have not heard from a CARITAS representative within 24 hours, excluding weekends, please feel free to call the Furniture Bank directly. All appointments must be confirmed over the phone. 
Please note: We accept cash, check or Credit Card.
After you complete the form, you'll be redirected back to this page with a message that says "Thanks for contacting us! We will get in touch with you shortly."