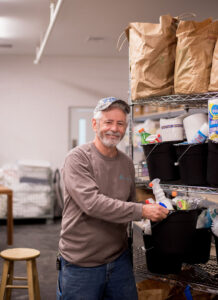 CARITAS transforms lives and brightens our community. We provide a variety of volunteer opportunities in the Richmond area.  With the support of 12,000+ volunteer hours each year, we can stretch every contribution farther and create a larger impact. For every dollar CARITAS invests in volunteer engagement, we can add $3.60 of value to our clients and our mission.
Flexible and meaningful opportunities are available for you, your office, your family, and your neighbors to make a difference with us!
We ask that you attend an orientation with us. As we navigate the pandemic and our move into the CARITAS Center, you can start our experience by filling out the volunteer form below.  
In addition, before you volunteer, please review our new health and safety protocols. Click here.
Quick Links
Take a Tour Before You Volunteer
Our volunteer program opportunities include the following:
Shelter:
Furniture Bank:
Works:
The Healing Place:
Open Saturdays:
Please Note: We welcome on-site volunteers aged 16 and older, with underage volunteers providing adult supervision (one adult per five minors).