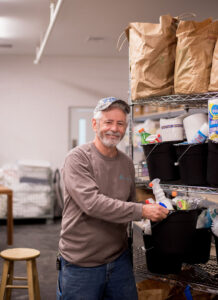 CARITAS has volunteer opportunities available every day. Flexible and meaningful opportunities are available for you, your office, your family, and your neighbors! Each hour of time you donate helps transform lives and brighten our community. With your volunteer support, we can stretch every contribution farther and positively impact even more lives!
Volunteer Opportunities
See all available opportunities for volunteers at caritas.volunteerlocal.com/volunteer/
Register for volunteer opportunities using the link above. Registering lets us know when to expect you and gives us important information to help manage our inventory.



Any opportunity that does not have a link attached below is not currently available.
In addition, before you volunteer, please review our health and safety protocols for COVID-19.
We continue to appreciate contactless donations made at either location in the form of meals and items. Please see below for available opportunities.
**Please note that CARITAS requires all participant-facing volunteers to provide proof of vaccination as of October 1, 2021.**
New Volunteer?
**All new onsite volunteers must complete the application and orientation before volunteering.

Before engaging in any volunteer activities, we ask that you attend an orientation with us. Virtual "Connect with CARITAS" volunteer orientations are held every other Wednesday at 1 p.m.
Donate Items:
Shop our Amazon Wishlists and have items delivered to our programs at 2220 Stockton Street, Richmond VA 23224.
Shop for our men's campus.
Shop for our women's campus.

We have no further storage for the following items:
Professional clothing (men's or women's)
Hygiene items for women
Scarves and hats
Hand sanitizer or face masks
We are accepting the following items:
Gloves and boots (men's and women's)
Men's undershirts, underwear, belts, and socks (larger sizes most needed)
Men's hygiene items such as razors, shaving cream, deodorant, travel shampoo and lotion, and alcohol-free mouthwash
Men's shower shoes (larger sizes most needed)
Small household items (Flatware, mugs, glasses, pots and pans, bowls, coffee pots, microwaves, washcloths and hand towels)
Blankets (not throws)
Donate Meals:
CARITAS serves hundreds of men and women 24/7. We make sure they have the nutritious fuel they need–that means 3 meals a day.  It's a large undertaking to make this possible every day. In 2021, CARITAS provided 239, 452 meals to our program participants! We need YOUR help. Join us by signing up for this unique volunteer opportunity using the link below.
Click here to learn more about donating meals.
CARITAS Works:

Our students need your expertise to assist them with basic computer skills, resume writing, interview prep, and dressing professionally. Contact works@caritasva.org or call

(804) 358-0964

 to learn more about volunteering with CARITAS Works.
The Healing Place:
For opportunities such as sponsorship at The Healing Place for Men, contact Justin Woods at

(804) 887-1584

or jwoods@caritasva.org.
Please Note: We welcome on-site volunteers aged 16 and older, with underage volunteers requiring adult supervision (one adult per five minors).
CARITAS is proud to be recognized as a leader in our partnership with volunteers through the Points of Light Service Enterprise certification process.