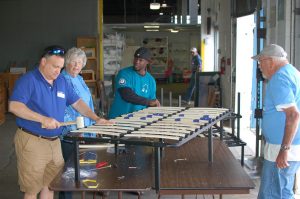 CARITAS transforms lives and brightens our community.  With the support of 12,000+ volunteer hours each year, we can stretch every contribution farther and create larger impact. For every dollar CARITAS invests in volunteer engagement, we add $3.60 of value to our clients and our mission.
Flexible and meaningful opportunities are available for you, your office, your family, and your neighbors to make a difference with us!
We ask that you attend a "Connect with CARITAS" orientation which is offered every Wednesday at 1 p.m. at  The Healing Place, a program of CARITAS, 700 Dinwiddie Avenue, Richmond 23224.
We welcome on-site volunteers aged 16 and older, with underage volunteers aged 16 and 17 providing adult supervision (one adult per five minors). If you're ready to apply to volunteer, click the buttons below!
Our volunteer program opportunities include the following:
Shelter:
Furniture Bank:
Numerous opportunities exist for on-site volunteers at the Furniture Bank including shopping with clients, sorting incoming donations and much more. Groups are welcome on selected weekday afternoons. We are open for individual volunteers one Saturday each month from

9 a.m. until noon

. Visit HandsOn Greater Richmond to sign up or call (804) 343-5008 for availability.
Corporate, civic and other groups are encouraged to volunteer with us; we offer many rewarding opportunities for teams including our Bed/Table Build project.
Off-site volunteers of any age can host a drive to collect gently used household items (pillows, linens, towels, dishes, pots/pans, etc….) and deliver them to the Furniture Bank warehouse where they will be distributed to the formerly homeless community.
For questions about volunteering with the CARITAS Furniture Bank email volunteer@caritasva.org.
Works:
Our students need your expertise to assist them with basic computer skills, resume writing, interviewing, and dressing professionally.
We also need your help providing meals to our Works students and their volunteers. Click here for meal opportunities.
Contact works@caritasva.org or call 612-1752 to learn more about volunteering with CARITAS Works.
The Healing Place:
The Healing Place serves nearly 600 meals every day to men in the recovery program. We would love your help providing bag lunches. The men use these meals as they head out to visit meetings and give back in the community. Click here for bag lunch volunteer opportunities.
Open Saturdays:
CARITAS Crew
We are thrilled to announce the launch of the CARITAS Crew! This group will hold casual monthly events to support CARITAS. From trips to the Richmond Kickers game to volunteering at the 43rd Street Arts Festival, the CARITAS Crew will work together to advocate, engage and raise funds for CARITAS. If you're interested in learning more, please contact Cara Kaufman at ckaufman@caritasva.org.