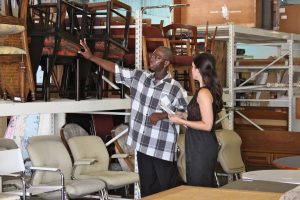 Have you hosted a furniture or household goods drive? Have gently used furniture you want to donate? Ready to drop off your donations? Great!  
Drop off donations of furniture and household essentials at 1108 Gordon Ave. Please call ahead before you drop them off: (804) 358-0964 Ext: 401.
Donation Receipt
Your donation is tax-deductible at the fair market value of each item. Please request a donation receipt at the time of your donation.
Where Do My Items Go That Clients Can't Use?
Your donations help us provide the basic home essentials to more than 900 homes a year. Occasionally we receive inappropriate furniture due size or function. Items that clients don't need or can't use are sold in the Gathered Goods Marketplace, an online auction. This supports our mission by providing valuable funds for our programs. We do not sell essential items.