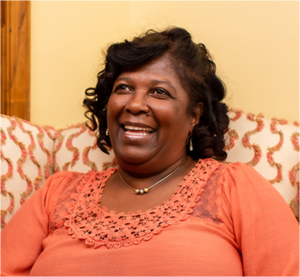 Meet Bonnie, Our New Safe Off the Streets Intake Coordinator
Bonnie Woolridge has a favorite saying: "You've got to feel; deal, then you get to heal." She'll be our new Safe Off the Streets (SOTS) Intake Coordinator at The Healing Place for Women. Like the rest of our recovery staff, she has her own story of pain and triumph. 
The Healing Place for Women is a long-term peer-driven residential recovery program serving the Greater Richmond community and will be a part of the new CARITAS Center. Like our Men's program, here, our neighbors suffering from substance use disorder carve pathways to sobriety, employment, and spiritual wellness.  We offer services at no cost, currently available for men and available for women soon. Learn more about the CARITAS Center.
Bonnie's Story
We sat down with Bonnie to learn more about her story and her new role at The Healing Place for Women.
Bonnie was raised on the Southside of Richmond with her Mom and Dad and two brothers, making up a very "normal" family. She remembers her father drinking only once a week, and it wasn't until high school that she began to experiment with marijuana.  
 "And then one day, I had this addiction that was so horrifying," she says. "Money ran out, I couldn't keep a job, and I went to the streets. I started doing things that were so beneath me and then ended up in jail."
Bonnie tried short-term recovery programs, but nothing ever stuck. "I became so comfortable living in an uncomfortable place," she says. "I was 97 pounds, living in abandoned houses and sometimes homeless. I tried everything to get off of drugs and alcohol, but nothing worked."
Bonnie's parents found The Healing Place in Louisville, and in 2004, Bonnie went, this time ready and fully conceding to needing help. In the program, she met other addicts and alcoholics with a story just like hers. Bonnie watched them work the 12 steps and could see a difference in her peers.
Bonnie dug in and worked the 12 steps and progressed through the program to completion, and proudly become an alumna. The program also taught her how to save money and she settled into her own apartment while gaining sustainable employment working at a hospital.
I often hear, "People don't change, and I say, oh yes they do…if they work the 12 steps to the best of their ability", Bonnie shares. Little did Bonnie know that the hospital job would offer her the experience and knowledge to help her start a new chapter in her life as the Safe Off the Streets Intake Coordinator.
What is Safe Off the Streets (SOTS)? 
The Healing Place for Women all starts with SOTS. This is the entry point, the intake center for the program. This is a safe place for women off the street to stabilize, eat good food, sleep in a real bed, and have a roof over their heads. They can spend this time resting and recovering from abusing substances. Once stabilized, participants can then move into the next phase of the program and begin their recovery journey with other women just like them in a peer-driven community.
Why is a peer-driven program important? 
We believe in the power of one addict/alcoholic helping another addict/alcoholic. And through this process, we learn to hold ourselves accountable and how to help others be accountable. Through shared understanding, respect, and support, the peer-driven process helps participants to trust again, to ease into the program, and stay in the program.
When do you begin studying the 12-step program? 
As soon as you enter The Healing Place, Peer Mentors will guide participants through the 12 steps of recovery based on our textbook Alcoholics Anonymous Big Book to accompany the Recovery Dynamics curriculum. The curriculum includes writing, classes, and promotes building a community through sponsorship and attending inside and outside recovery meetings. 
What are some of the major philosophies of the 12-step program? 
This is an inside job and our motivation has to change. For me, acceptance is the first step. I had to accept that I was a real alcoholic. I had to be convinced I couldn't drink safely. I had to accept reality and build up a belief system other than what my addiction had led me to believe. A life built on our 12-step principles: Honesty, Hope, Faith, Courage, Integrity, Willingness, Humility, Brotherly Love, Justice, Perseverance, Spirituality and Service.
What are you most excited about with the new THPW? 
We have needed a women's program like this for so long now. I'm so happy it's finally here and we can provide recovery services that really work, that offer a solution and a real way of living. I'm also really excited that I can give hope to other women. It means everything to be able to give back what was so freely given to me.
What have you learned from working with the men the past few months? 
I've been training with the staff at The Healing Place for Men and I've learned so much. The current participants are amazing men – they are hard working, compassionate and making real changes in their lives.  While it's important to have gender-based programs, residents of both the men's and women's programs will be able to learn from each other moving forward. It's all about practicing sobriety in a safe place. 
Learn More About Alcoholics Anonymous.
Learn More About Recovery Dynamics.