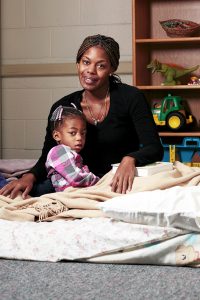 CARITAS is Richmond's largest emergency shelter, sheltering up to 110 people per night, and over 1,000 people annually. We provide more than 90% of the shelter beds available to single women. The hard work of 15,000 volunteers and 155 host congregations creates a safe and hospitable place for our most vulnerable citizens.
We're excited that you and your congregation are considering hosting a week of shelter. Each week, three different congregations host shelters for unaccompanied men, unaccompanied women, and families. If you would like to sign up to host a shelter, click the button below. If you are interested in learning more about the congregation volunteer responsibilities please, contact the Director of Shelter Operations to receive a copy of the volunteer manual.
For questions, please contact Jenn Patterson, Women's Emergency Shelter Case Manager (804) 887-1598.
Looking for other volunteer opportunities?
Nearly 18,000 people volunteer with CARITAS every year to help us break the cycles of homelessness and addiction in the Richmond area. Flexible and meaningful opportunities are available. Individual volunteers assist during all hours of operation.